---

Photos of 1962 Ford Police cars wanted.

The awesome 1962 Ford Interceptor.

No other law enforcement vehicle has a reputation for impressive performance like the Ford Police Interceptor. Having an Interceptor engine under the hood gave you certain braggin' rights that were respected at the local hangout. The Ford Interceptor was in fact not just an engine, but a Law Enforcement vehicle equipped with the 330-hp Interceptor 390 V-8, Manual 3-Speed Transmission, Extra cooling radiator, Extra cooling fan and pulley, Certified Calibration Speedometer in 2 mph increments, and heavy duty suspension components.

"THE BLAZING, HIGH-PERFORMANCE POLICE INTERCEPTOR...FORD'S TOP-RANKING LAW ENFORCER Cited across the nation for performance above and beyond the call of duty...."

"POWERED BY THE MIGHTY 330-HP INTERCEPTOR V-8." "Ford's mighty Interceptor V-8 is a specially engineered powerplant designed exclusively for and sold only to law enforcement agencies. The Interceptor's highway-scorching power and lighting-like responsiveness are the result of a carefully "souped up" induction system which includes: special high-lift camshaft; high-velocity 4-barrel carburetor; freer-breathing air cleaner; solid rocker arm tappets; high-performance valve springs, with damper and solid retainers; forged steel exhaust valves; plus a low -restriction exhaust system with header-type manifolds and low back-pressure mufflers."
"...searing power that's unsurpassed in responsiveness, smoothness and dependability."
Registry Note: The statement "a specially engineered powerplant designed exclusively for and sold only to law enforcement agencies" is from the 1962 Ford Police Cars and Emergency Vehicles sales brochure. It is likely that the "mighty Interceptor" found its way into some non-law enforcement vehicles.
On April 14, 1962 Rozum's Ford in Mitchell South Dakota, in business since 1917, sold 6 Police Interceptors to the State of South Dakota Motor Patrol. The VINs are 2P52Z165293, 2P52Z165294, 2P52Z165295, 2P52Z165296, 2P52Z165297, 2P52Z165298. These Galaxies were identical, down to the sale price of $3393.25. On August 8, Rozum's sold another sequence of 3 Interceptors to the Motor Patrol. These were 2P52Z192781, 2P52Z192782 and 2P52Z192783. Here, contributed by Dick Rozum, is the Rozum's Ford Stock Record Card for one of these Law Enforcement vehicles. It would be great to find that some of these have survived. Note that there is no Trim, Color or Axle code. According to John Rotella, director of www.Lovefords.org, these were special order items not normally available from the parts inventory or for regular production. The spaces for these on the data plate would be blank.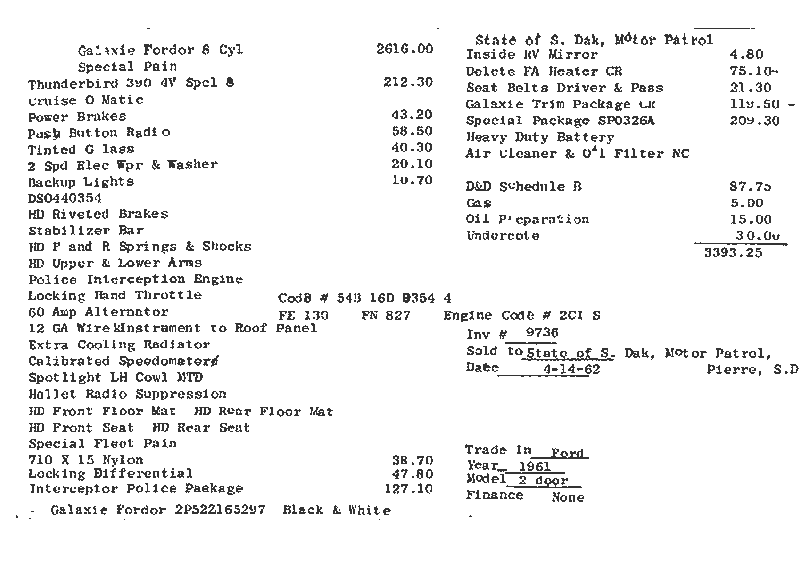 Other Galaxie based police cars from Ford in 1962 were:
The Cruiser - 300-hp 390 V-8. The Cruiser is identical to the Interceptor except for the engine.
The Guardian - 220-hp 352 V-8. .....For all around patrol duty.
The Sentinel - 170-hp 292 V-8. .....for thrifty V-8 performance.
The Deputy - 138-hp Mileage Maker Six . Ford's general purpose police car.
These Law Enforcement vehicles were all available in 2-door or 4-door models.
For "All-Purpose Police Work....'62 Multiple-Duty Police Wagons."

These Police Wagons, 6 - passenger Ranch Wagon or Country Sedan, were available with the 300-hp 390 Special V-8, the 220-hp Thunderbird 352 Special V-8 or the 170-hp Thunderbird 292 V-8.
Also available from Ford in 1962 were the Fairlane Series Ranger and Sentry police cars.

The Ranger came equipped with the 145-hp 221 cu. in. Fairlane V-8 and the Sentry (pictured) was powered by the 101-hp 170 cu. in. Fairlane Six.

This is an unmarked police car believed to have been in service in Abiline, Kansas. It had a working siren and red flashing that hung down from the rear view mirror. Had 2 way radios under the dash and a fire extingusher mounted in back seat area. It was very original and in good condition. I believe it was a ''X'' code being a 352 2v but it had a 4v on it. Had a Ford intake with C1AE casting numbers and date coded from 1961 so I assume it was changed fairly early in it's life. I was told that back then, the officers had to buy their own car and supply it with all the police stuff. The officer probably wanted a little more "umph" and added the 4 barrel. The Registry is awaiting additonal information on this car. Submitted by Kevin Rose.
Movie Star Galaxie


The 1962 Ford Galaxie Registry sincerely thanks Mr. Sam Cotton for sharing his great Police car with us. Sam acquired the car in December of 2008.

This Galaxie saw service as part of the Salt Lake City Police Department. Later in its life it performed a role in the great 2006 film The world's Fastest Indian. For additional information on this Galaxie, see Registry entry 353.
Indiana State Police Car

With permission from the Indiana State Police (ISP) Museum curators, Chuck Poi has provided the 1962 Ford Galaxie Registry with this picture from the museum archives. Chuck says that the Galaxie in this picture, taken in May of 1964, is almost certain to be powered by the 330 horsepower, 390 cubic inch police interceptor motor.

According to the ISP Museum website, up until about 1967, the ISP patrol cars could be sourced from several different manufacturers, all within the same year. For more information about ISP history, including patrol cars, be sure to visit their website at ISP Museum, or if you are ever near the museum, which is located in Indianapolis, go check it out in person.