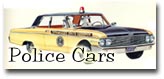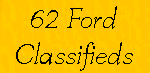 ---
Over the decades since they were introduced the great 1962 Galaxies have been seen in many important places carrying many important people or otherwise serving in some notable role. Here are a few of the most notable.
Lee Harvey Oswald Ambulance

This 1962 Ford Ranch Wagon 2D71W113780 is the ambulance conversion that carried Lee Harvey Oswald to the Parkland Hospital from the Dallas Police Station where he was shot by Jack Ruby on November 24, 1963, two days after Oswald assassinated President Kennedy. It is a Dallas built car, white with beige vinyl interior. The DSO of this wagon is 617769. This historical 1962 Ford sold at a Kruse auction in 1998 for $32,500.
This Galaxie is Registry entry 11.
1950s and 60s Teen Idol Bobby Vee

I thank my friend Bob Celli, the keeper of Bobby Vee archives, for permission to use this photo of Bobby in a '62 Galaxie 500/XL in front of the Alamo. Some of you may know that Bobby Vee got his start in the entertainment industry on February 3, 1959. He was 15 and he and his brother Bill and some friends had a garage band called The Shadows. His band auditioned and was chosen to fill in for Buddy Holly at the Moorhead, Minnesota Armory the day Buddy Holly died. The rest of Bobby's career is a string of great hits like Devil or Angel, Rubber Ball, The Night Has a Thousand Eyes, etc. We can guess at the engine given the clues of the Thunderbird emblem, dog dish hub caps and it's an XL.
Mercury Astronaut Walter "Wally" Shirra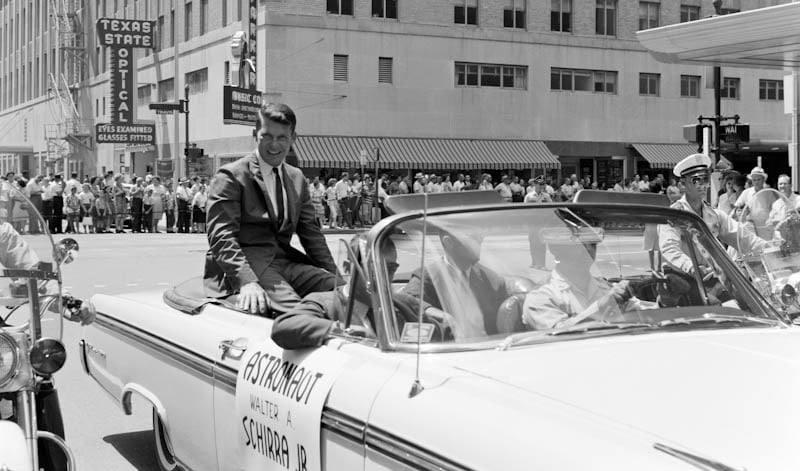 Walter Marty Schirra Jr. March 12, 1923 – May 3, 2007), (Captain, USN, Ret.), was an American naval aviator, test pilot, and NASA astronaut. In 1959, he became one of the original seven astronauts chosen for Project Mercury, which was the United States' first effort to put human beings into space. On October 3, 1962, he flew the six-orbit, nine-hour, Mercury-Atlas 8 mission, in a spacecraft he nicknamed Sigma 7. At the time of his mission in Sigma 7, Schirra became the fifth American and ninth human to travel into space. In the two-man Gemini program, he achieved the first space rendezvous, station-keeping his Gemini 6A spacecraft within 1 foot (30 cm) of the sister Gemini 7 spacecraft in December 1965.

He was the first astronaut to go into space three times, and the only astronaut to have flown in the Mercury, Gemini, and Apollo programs. In total, Schirra logged 295 hours and 15 minutes in space. He retired as a captain from the U.S. Navy as well as from NASA, subsequently becoming a consultant to CBS News in the network's coverage of following Apollo flights. Schirra joined Walter Cronkite as co-anchor for all seven of NASA's Moon landing missions.
The World's Fastest Indian

If you have seen the 2005 movie The World's Fastest Indian you no doubt may remember this scene where Bert Munro (played by Anthony Hopkins) is stopped for his high speed test ride around 150 mph. No speed limits in Nevada so the Patrolman let him off with a nice warning.
This Galaxie is Registry entry 353.