1. VIN 2D65Z133455, BODY 76A, COLOR V, TRIM 39, DATE 25B, DSO 51, AXLE 1, TRANS 4
Formerly Dick Rozum's Galaxie. Approximately 152000 miles. This car had 140000 and the original engine had never been touched. PS, PB, PW, 4-way seats. Very nice restoration.
3. VIN 2G67X191771, BODY 65B, COLOR X, TRIM 86, DATE 04F, DSO 35, AXLE 1, TRANS 4
500/XL submitted by Adrian Clements.

4. VIN 2N64W118600, BODY 75A, COLOR DM, TRIM 17, DATE 16M, DSO blank, AXLE 1, TRANS 3
This car was transported to Germany in 1992. It is now owned by Ludwig who purchased it in May, 2000. Ludwig lives near Heidelberg.
Update 8/15/09: During the last weeks it has got a new paint job according to the old two tone paint and looks very good now, like new! So I send You a picture of my "brand new" car and I would be glad if you would use it on your site instead of the photo which documents the old status of the car.
Update 11/25/09; Click here to see a video of this car.


5. VIN 2W65X100012, BODY 76A, COLOR T, TRIM 34, DATE 11H, DSO blank, AXLE 1, TRANS 4
This Galaxie was built at the Wayne Michigan Plant on August 11, 1961. It is currently the earliest production date and lowest production number (12) car in the Registry. It is quite possible that this is indeed the first 1962 Galaxie Sunliner built.
Update 8/27/04 - From Kentucky, this Galaxie has found its way back to its birthplace. It was assembled in Wayne, Michigan and is now owned by Tom Hopkins of Dearborn. Tom purchased the car as a body and frame and will be doing a resto-mod to bring it back to life. Good luck Tom and keep updated with photos as you progress. Tom is also the proud owner of a beautiful red '61 Starliner.
Update 4/10/05: Tom is now the proud owner of Entry number 41 also.

6. VIN 2J69Z165476, BODY 76B, COLOR M, TRIM 85, DATE 21E, DSO blank, AXLE 1, TRANS 4
Options: Per the build sheet; radio, power steering, backup lights, deluxe wheel covers, padded dash and visor, tinted windshield, 8.00 x 14 White side wall tires. Correct seat belts have been added to both front and rear seats.
Comments: Since buying the car in June of 2000 my Galaxie is being maintained and restored as close to original as possible with a few enhancements for safety. It was a winner of one of the Participant's Choice trophies at the 2005 Galaxie Nationals in Dearborn, Michigan and was featured as the Member's Profile car and cover photo for the Ford Galaxie Club of America GAZETTE Volume 22, Issue 6, 2005. Submitted by Paul Hobbs Galaxiedriver@centurytel.net
No photo available 7. VIN 2G62X149865, BODY 54A, COLOR AM, TRIM 16, DATE 05B, DSO blank, AXLE 1, TRANS 4
Parted out in December 2003.
8. VIN 2J67Z158647, BODY 65B, COLOR V, TRIM 89, DATE 18D, DSO blank, AXLE 1, TRANS 4
Nicknamed Galaxie 501/XL after it's 501 stroker engine built from a '69 Lincoln 460.. Award winning custom has been featured in FordMuscle and has seen time on ESPN2.

10. VIN 2N63Z111804, BODY 65A, COLOR A, TRIM 35, DATE 14L, DSO blank, AXLE 1, TRANS 4
According to the owner, the patent plate on this car is questionable. He believes the car was originally a G code Galaxie and that the original data plate is now on a convertible.

11. VIN 2D71W113780. This 1962 Ford Ranch Wagon is the ambulance conversion that carried Lee Harvey Oswald to the Parkland Hospital from the Dallas Police Station where he was shot by Jack Ruby on November 24, 1963, two days after Oswald assassinated President Kennedy. It is a Dallas built car, white with beige vinyl interior. The DSO of this wagon is 617769. This historical 1962 Ford sold at a Kruse auction in 1998 for $32,500.


12. VIN 2P62X156667, BODY 54A, COLOR MV, TRIM 39, DATE 08C, DSO blank, AXLE 1, TRANS 4
Car built by Day Scovel in Kalispell, Montana. Day says, "when I got the car the body was rough (see picture) 352 had thrown a rod, the brake system was shot and the Automatic transmission allowed the car to role in park. It now has: 4-wheel disc brakes, hydroboost brake booster, carbureted 302, T5 manual trans with hydraulic clutch, true ram air Thunderbolt style, Home-built Coil over front suspension, Home-built Rack and pinion steering. Also I took off most of the chrome (less is more) filled the holes and gave her a fresh paint job. I have changed the interior color to black and white with a touch of the original burgundy and installed bucket seats." www.dazecars.com
Options: 302, disc brakes, AOD, and bucket seats.

13. VIN 2J65Z147071, BODY 76A, COLOR H, TRIM 32, DATE 21B, DSO blank, AXLE 1, TRANS 4
This Galaxie owned by Tom and Pam Chronister is the one that "Stephen" was driving in the DELL computer commercial that aired in 2003. It features a driver side mirror spotlight, power steering, power brakes.

14. VIN 2J65X120028, BODY 76A, COLOR J, TRIM 35, DATE 16L, DSO blank, AXLE 1, TRANS 4
Owned by Tom and Debra Watkins. Frame on restoration finished in 2000. Won 16 awards,excellent driver or show, has 6K-7K miles since restoration,have all receipts totaling 20,000.00. Won Grand Champion-Best Of Show among the awards. Power steering, power brakes, 352 has been replaced with a 390.
15. VIN 2J67Z172751, BODY 65B, COLOR M, TRIM 89, DATE 25F, DSO blank, AXLE 1, TRANS 4
Owned by Tom and Debra Watkins. Rebuilt motor and transmission, power steering units, brakes, exhaust, suspension (front-rear). Car has the original interior (which needs repair)and the paint is mostly original also. Drives great. Car has 390, Cruis-0-Matic, power steering, brakes, A/C, stereo build for this dash with AM-FM casette player.
Registry Update 3/4/06:
Hello,
My name is Dan Ficher. I own the 62 Galaxie that is listed as Tom & Deb Watkins owning it. I bought it from another fellow. Since then I have redone the upholstery with new door panels in the correct Chestnut Crush. Lots of new and or straightened trim including all the inside aluminum on the seat backs. Clock converted to Quartz electronic, A/C repaired, new shocks and lots more.

16. VIN 2J52V153901, BODY 54B, COLOR F, TRIM 22, DATE 26C, DSO blank, AXLE 6, TRANS 1
This 4 door sedan resides in Somers, Montana, zip code 59932 at Flathead Salvage. They have been selling her piece-by-piece, but they said I could have the whole car for $500.00 No thanks. Sent by Day Scovel of Kalispell MT.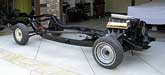 17. VIN 2J67G180717, BODY 65B, COLOR I, TRIM 86, DATE 09V, DSO blank, AXLE 5, TRANS 5
This G Code Galaxie was submitted by a friend of the owner who is a member of the So-Cal Galaxies Car Club. This car has its AM radio, front power disc brakes, is a daily driver, and runs like the wind. Submitted by Tom Yanulaytis.
Update 10/28/06
Comments: Undergoing complete restoration! Should be done summer 2007 Submitted by Brian Penna, 10/26/2006.
Email: mbpenna@netzero.com
Registry Note: August 9 1962 production date. This is one of the last G code Galaxies produced at the LA Plant.

18. VIN 2E63X201838, BODY 65A, COLOR H, TRIM 12, DATE 11D, DSO 23, AXLE 1, TRANS 4
Options: Power windows,SunX tinted windows, Power Seat, Power steering, remote trunk release, Polarair A/C, Seat belts, Brake warning, windshield washer, Rear deck antenna and more.

Comments: My Grandfather parked my Galaxie in 1966 and in 1979 my father and I did a quicky Earl Shibe on it. I drove it till 1985. After that it was heading for the scrap yard, when pop said we can rebuild it. Poof 14 years later my first frame off 62 galaxie was done. Mostly NOS trim and chrome and it looks better than new. 2004 Ford Carlise 2nd in its class and of course a 62 G code 406 was first and a 61 390 hipo 3rd and my little ole 352 X car took 2nd. Sent by Jim Holmes.
No photo available 19. VIN 2E61B215431, BODY 62A, COLOR A, TRIM 45, DATE 07E, DSO 11, AXLE 5, TRANS 5
Comments: A very rare B Code 62 Galaxie. Frames done and suspension ready to go back on. One more panel to repair on the driver's side floor and its back on the frame. The car came from Cape Cod area. This car was painted red by its original owner. I will be making it black again. My son, 14 at the time, placed the winning bid for $500 on ebay. Rear and tranny are fresh but have to find a 406 block from 62 or else a later 63 cross bolt. Sent by Jim Holmes.

20. VIN 2U62W126023, BODY 54A, COLOR A, TRIM 35, DATE 024, DSO blank, AXLE 6, TRANS 1
Options: Radio, Padded Dash

Comments: As of now I have owned the Gal approx 3 years. When I bought her she was all original down to the radiator hoses with 71,000 miles on the odometer. I drove it on weekends until recently when the 292 finally gave up and died. Now 9/6/04 I am in the process of a transplant consisting of a 1969 302 (mild build up) and a 4 speed trans. Sent by William F Brossett.