No photo available. 181. VIN 2D63Z113382, BODY 65A, COLOR V, TRIM 19, DATE 09L, DSO BLANK, AXLE 1, TRANS 4
Options: Parking brake light
Comments: Red in color now in and out, need more info on these cars. Car is solid underneath some rust in hood, and trunk. Submitted by R. Willbanks, 09/08/2006.
Update. I just purchased car. From what I was told it was a Florida car. The car is in really good shape with very minimal rust. It has been repaint red and the interior has been changed to red. The car is pretty much original otherwise. It still has the original A-M radio that works. The car has original 390 engine with Cruise-O-Matic trans. It is a blast to get out and drive. Would sell the car if anyone is interested. Asking $5200. I live in Chattanooga Tennessee. Submitted by Tim Harris, 12/31/2006.
Email: Malibuclassic6@cs.com

182. VIN 2W63X154323, BODY 65A, COLOR D, TRIM 17, DATE 30G, DSO 33, AXLE 5, TRANS 2
Options: 352 Engine--HD Overdrive--AM Radio--Elec. Wipers & Washers, HD Battery, HD Suspension F&R, HD Brakes, Equalock Axle, 670X15 4ply WSW Tires.
Comments: Bought at Hettche Motor Sales Co. in Detroit, MI. Took Delivery on 8-2-1962. Price Was $2,573.51 plus Sales Tax, License & Title for a Total of $2,681.25. The HD items along with the equqlock axle & 15" tires were actually the 406 package with out the engine. It was around a $100 option. I sold the car in the spring of 1966 and I believe it was taken to the East Coast. I'm not sure what the milage was but I'm guessing around 60,000. Note: The interior cloth was actually the pattern used on the 63's. I questioned why it wasn't the same as the other 62's and I was told they ran out of cloth and started using the 63 pattern. True or not I don''t know. Submitted by Bob Bandyk, 09/09/2006.
Email: bbandyk@cox.net
183. VIN 2U65X129864, BODY 76A, COLOR V, TRIM 39, DATE 29A, DSO BLANK, AXLE 1, TRANS 4
Comments: Frame on restoration almost complete, all original with only 54K miles. This car had very little rust (rear quarters) I had them replaced and am in the process of putting it all back together. Submitted by Mic Finnie, 09/17/2006.
Email: mikifin@sbcglobal.net
184. VIN 2J63X175635, BODY 65A, COLOR MV, TRIM 39, DATE 19G, DSO blank, AXLE A, TRANS 4
Options: Complete new 390/360 HP engine. Car has many years of TLC, custom interior, complete rebuild suspension
Comments: Show car condition with many awards. Recently was in the Portland, Oregon Roadster Show and was awarded a trophy, also shown in Goodguy's Show. This car has been part of our family for thirty three years. Submitted by GEORGE P. WOOD JR., 09/19/2006. Email: VXE6MAN@YAHOO.COM
185. VIN 2P62X140018, BODY 54A, COLOR T, TRIM 14, DATE 05A, DSO blank, AXLE 1, TRANS 4
Comments: John my uncle sold this car also. The Jefferson motors sticker is still on the bumper. If I did not tell you my uncle was a Ford Dealer since the 1940's or a little before. He just sold out in the last 10 - 15 years. This car is close to the same shape as the other. A little bit more rust on one fender and the front on the hood. Car is almost complete without the top radiator hose. That's it. Not dented. Please let me know what the code or VIN# says about this car. ALso I want to put it in the registry. Not sure how to do that since Paul Hobbs did the last one for me.
Thanks again, Bobby Kessel, Ford Lover from Iowa. Submitted by Bobby Kessel via John Rotella, Director Lovefords.org.
No photo available. 186. VIN 2J61X146876, BODY 62A, COLOR J, TRIM 45, DATE 21B, DSO 74, AXLE 1, TRANS 4
Comments: Submitted by Steve Englund, 09/23/2006.
Email: 4Englunds@comcast.net
187. VIN 2U65Z141196, BODY 76A, COLOR H, TRIM 32, DATE 29C, DSO 149064, AXLE 5, TRANS 1
Comments: Car has been painted Oxford white with black trim. Car was also change to 4-speed. Good overall condition, Car is used to pull a 1966 Airstream Travel Trailer. Submitted by Mr. Waddell 09/23/2006.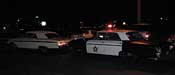 188. VIN 2P52W138394, BODY 54B, COLOR M, TRIM 21, DATE 29M, DSO blank, AXLE 6, TRANS 1
Comments: This great Mayberry Squad Car conversion is owned by Russell Gunter of Puxico, Missouri. Russell had it at the 2006 National Galaxie Show in Springfield, Illinois and it was a hit. This National show was held in conjunction with the Route 66 Festval and 90 some Galaxies were given the honor of leading a parade/cruise of hundreds of vintage cars Friday night Sept. 22. This car was given the additional honor of leading the Galaxies.

It is available for parades and other events by contacting Russell at 573 222 2113 or email at angton@earthlink.net. Submitted by Paul, 09/25/2006.
189. VIN 2J65X100863, BODY 76A, COLOR M, TRIM 35, DATE 24H, DSO blank , AXLE 1, TRANS 4
Comments: Paul, I briefly met you at the Springfield show and you gave me your card for registering my car.
For the record: My friend of many years passed away in 1991 and the car was kept in the family garage since then. He purchased the car in 1980 and it is mostly original. I have replaced the dash and basically cleaned the car. While is is not a #1, it is a beautiful driver. Submitted by Jack Mills 10/07/2006.
Registry Note: The 100863 in the VIN and the August 24 1961 Build Date tells us that this beautiful Sunliner was built in the first few days of 1962 model year production at the LA Assembly plant. One of the first and still looking great. Paul

190. VIN 2U67Z160382, BODY 65B, COLOR A, TRIM 85, DATE 15F, DSO 31, AXLE 1, TRANS 4
Options: Radio, Padded dash
Comments: I was shopping for a car to restore. My son and I have a deal cooking on this little rusty soldier. I got lots of help from your site. THANKS for posting a great site. Here are the codes from "our" car. Submitted by Randall Wakefield, 10/07/2006.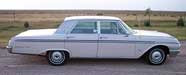 191. VIN 2D62Z139539, BODY 54A, COLOR TZ, TRIM 14, DATE 02D, DSO 51, AXLE 1, TRANS 4
Options: AM radio, deluxe wheel covers, power steering, power brakes, air cond.
Comments: This car is a 390 4v (300 HP) automatic car. The original air conditioning works great. Car has power steering and power brakes. The AM radio works great also. The interior is fantastic except for a small spot where arm rests were at one time. This Galaxie has 69,985 miles. That would figure out to be only 1600 miles a year. The body of this car does not have a rust problem. However it has minor dings and scratches.(see photos) The previous owner touched up some of the nicks and scratches. The paint on the roof is thin. The engine runs good. It puffs some smoke when it is started and i noticed a small exhaust leak on the right bank. The Cruise-O-Matic transmission shifts smoothly. The rear end is a 3.00:1 so this car will move right along. We recently drove this car on a 700 mile trip and it did great. All lights and wipers work. Car has been shedded. Car also displays original hub caps. Whoever buys this car gets the Kleenex box in the back window with it. Drive this car home!

Found on ebay 10/9/2006. See the Decoding page for photos of this car's excellent Trim Code 14 interior. Submitted by Paul, 10/09/2006.
192. VIN 2E69X259343, BODY 76B, COLOR A, TRIM 85, DATE 09V, DSO 13, AXLE 1, TRANS 4
Comments: Great shape. Submitted by Joseph Machi, 10/11/2006.

193. VIN 2N63Z123458, BODY 65A, COLOR A, TRIM 56, DATE 12A, DSO blank, AXLE 5, TRANS 2
Options: Power steering, Flaming Eyeball Air Freshener
Comments: Just purchased this car in Jackson, MI. I'm going to do a full body off restoration over the next few years. This car is very solid with the exception of a few small holes in the trunk on the driver side as well as a small hole in the floor under the clutch pedal. Car is very complete though "well used" with 90,300 Miles. The only thing that appears not to be original to the car is a Holly carb and the wheels and tires.
I hope to build the car to look more like a period super stock car. I'm going to build a stroked 390 (probably 410 or 416) with a tri-power unit and a 4 speed toploader. I have been wanting one of these cars for years and I am glad to finally have my own to register on this site. Submitted by Joe Hibbs, 10/24/2006.


194. VIN 2U69Z165684, BODY 76B, COLOR B, TRIM 87, DATE 19G, DSO 22, AXLE 5, TRANS 5
Options: 4 speed trans.
Comments: The car was bought new by my Father. He drove it everyday until the late 70's. The car has just over 66 thousand miles. The body has no bad rust and has never been wrecked. The paint is faded. The rear seat and top apron are in good shape. According to a eyewitness that worked at the dealership the tranny was removed on the weekend prior to the sale and placed in an local area dragcar. It was the first Ford 4 speed in the area and the mechanic had to just try it out. His name was Jake King who became famous as the Head Mechanic for Sox and Martin Drag Team. Submitted by Jerri Deaton, 10/26/2006.
Email: thumperj@charter.net
Registry Note: Regarding Jake King and the 4 speed transmission that this car donated, here is an exerpt from Ronnie Sox's obituary.
"Ronnie Sox, "Mr. 4 Speed" was an absolute Drag Racing legend with his uncanny ability to power shift a manual transmission with the engine at wide open throttle, which in today's world of air shifted hi tech race cars would have made him a dinosaur. He earned the nickname "the Boss" from other racers and fans alike as he out shifted the other drivers on the Pro Stock circuit.
In the early sixties he teamed up with ex rival racer Buddy Martin, the pair campaigning a hot Z 11 Chevrolet so Martin became the other member of the hugely successful "Sox & Martin" race car team. As Chevrolet withdrew from sanctioned racing the pair moved onto Mercury Comets. At this time the team really gained momentum, ace mechanic Jake King became a full time member and supplied the power to win races. Sox picked up the A/FX class victory at the 1964 Winter nationals by beating Dyno Don Nicholson. That season saw them race the 427-powered Comet in England as they joined the inaugural US Racing Team promoting the sport in Europe."

195. VIN 2J69X161901, BODY 76B, COLOR T, TRIM 84, DATE 03E, DSO blank, AXLE 1, TRANS 4
Comments: Have owned for 28 years. 283,000 known miles. Just restored. Now painted Sonic Blue with Cream interior and white top. John & Debra Davis Rancho Cordova Ca. Submitted by John & Debra Davis, 10/28/2006.
No photo available. 196. VIN 2U67Z149253, BODY 65B, COLOR V, TRIM 89, DATE 04E, DSO 21, AXLE 1, TRANS 4
Comments: Rusty parts car. All XL interior parts were taken out and sold. Engine and trans were gone when car was acquired. Car was salvaged in Georgia. I still have patent plate. Submitted by Joe Jordan, 11/08/2006.
197. VIN 2G62W176536, BODY 54A, COLOR M, TRIM 45, DATE 20D, DSO 35, AXLE 1, TRANS 3
Options: Two speed wipers w/ sprayer, Deluxe wheel covers, Deluxe heater, reverse lamps, Rotunda Kleenex box holder!
Comments: My car is solid and straight. I bought her from the original owner in 1993 for $3500; he made me promise I wouldn't "hot rod" it. I kept that promise until somebody ripped off my original motor and trans that was pulled for overhaul...
Now, she's got a stroked 390, 428 heads, 12:1 compression, factory dual quad setup, with a "big" solid roller cam and 406 shorty headers. The trans has been upgraded to a C6 with a full manual reverse valve body (still column shifted, of course) and I run a 4.11 rear gear with a spool. She's also been repainted - bottom still Corinthian White, top is now bright red. The interior is in excellent shape save for a few rips in the driver's bench.
I drive this car whenever I can. The '62 Ford is one of my favorite cars, period. It, and I, live in Mt. Prospect, IL. Submitted by Steve Rifkind, 11/12/2006.
Update: Has been off the road since about 2006 due to overheating, suspension, and brake issues. Plans are to either detune engine and fix all underlying mechanical issues or make it an EV. Submitted by Steve Rifkind, 09/25/2019.
Email: doctorthrottle@hotmail.com
No photo available. 198. VIN 2U65G137322, BODY 76A, COLOR A, TRIM 35, DATE 14C, DSO 2, AXLE 5, TRANS 5
Options: I believe it came with power steering. Paded dash.
Comments: Not many of these for sale guys!!! This is a bench seat g-code 4-speed convertible. How many have you seen for sale in any condition? Engine trans out of car. Engine has been rebuilt with tons of horsepower. Do not have the stock shorty exhaust headers. Car needs restoring.
Call for more information. Will be on ebay soon unless I sell it before the first of the year. I'm listing my email like this to prevent internet spam. Contact me at: tyfsak at netscape dot com. Submitted by Joe Jordan, 11/12/2006.
No photo available. 199. VIN 2E62X241851, BODY 54A, COLOR X, TRIM 14, DATE 10G, DSO 23, AXLE 1, TRANS 4
Comments: Submitted by Elden Cheney, 11/14/2006.
Email: bell13452@yahoo.com
No photo available. 200. VIN 2P67X195332, BODY 65B, COLOR JM, TRIM 85, DATE 26G, DSO blank, AXLE 1, TRANS 4
Options: SELECT AIR,FLOOR CONSOLE AUTOMATIC
Comments: I would love to found some parts for this car and ask some questions about the motor. Submitted by Darel Donahue, 11/22/2006.
Email: dareld@bellsouth.net