81. VIN 2G65X122760, BODY 76A, COLOR J, TRIM 56, DATE 11L, DSO blank, AXLE 1, TRANS 4
Comments: The car has been repainted a soft yellow, black bucket seats with console and floor shifter. Submitted by David J Boen, 06/22/2005.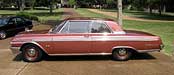 82. VIN 2U63M110958, BODY 65A, COLOR V, TRIM 39, DATE 31K, DSO blank, AXLE 5, TRANS 1
Options: 390/401hp, 3 speed
Comments: 98% original condition, inluding paint and interrior. 49K miles. Always garaged. No sign of rust anywhere. Majority of frame still has black paint. Submitted by Paul Kitchen, 06/28/2005.
Registry Note: It took 82 cars to finally get an M Code 1962 Galaxie registered and this one is a beauty. What is an M Code? It has a high performance 390 engine with 6 barrell carb. Very Rare.
Update 05/31/06: - This great survivor is for sale in Lubbock, Texas at Classic Motor Cars www.texascorvette.net. It is reported to be a totally original 3 owner Galaxie with 49000 miles on the odometer. The photos, used with permission of Classic Motor cars, show excellent detail of the M code engine and trim code 39 interior. Note the firewall color the same as the body. What a great survivor this one is. Rave On!
Update 01/26/07: - I bought this car from Classic Motor Cars in June of 2006. There are a few imperfections in the paint but I've decided not to have any work done to this car. The car is now part of my personal collection. I own almost 30 other rare Galaxies, some of which can be viewed on my website at www.mikesclassiccars.net. Mike Patak-Blair, Nebraska.
Email: mike@mikesclassiccars.net


83. VIN 2J71W126086, BODY 71D, COLOR M, TRIM 62, DATE 05M, DSO blank, AXLE 6, TRANS 3
Options: Power steering
Comments: 2nd owner, found it parked under a walnut tree in Monrovia, California with 42K original lmiles on it. I have had this car for about 12 years, restoring little by little. Currently 84K miles on the car. All stock, 292 V-8, Fordomatic. Great shape, great surf wagon. Submitted by Greg Carter, 07/07/2005.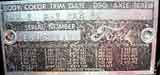 84. VIN 2E69G249045, BODY 76B, COLOR A, TRIM 85, DATE 21G, DSO 26, AXLE 5, TRANS 5
Options: 500 XL, ConvertIble, 406CU, 405HP engine, 4 Speed, 3.50 Rear (open), AM Radio, Wheel Covers (Full)
Comments: The car had a complete frame off restoration in 1992. Everything was restored including: frame, interior, engine, and body. It probably is a 2 in condition now. It was purchased with just 62K miles on the odometer, just outside of Washington DC. It had been sitting in a garage since 1972. I am the second owner. After restoration, it was garaged in Ft. Lauderdale Fl. until 2002 when we moved to Baltimore Maryland. Submitted by John A. Stangle, 07/09/2005.
Registry update: - Formally belonged to John Stangle, just purchased 14 Dec. 2007. Waiting for shipping to Virginia Beach, Va. to enjoy the happy life of a show car and to keep my 1966 Galaxie 500, 428 car company. The car is a very good #2 car. Trim needs minor buffing but otherwise still in excellent condition! Can't wait for delivery! Submitted by Chris Mangino, 12/16/2007.
Email: cgino@aol.com
Update 2/24/08: - The car is now in Virginia Beach, Virginia, runs great and a blast to drive! Still looks like the pics done years ago! Garage kept under a car cover with the 66 galaxie-500 428 and 66 Fairlane 390. Every weekend we take her out for local car get togethers. People love seeing the car, and the look on younger peoples face when they see factory headers and multiple carbs make for a Kodak moment! For some reason, they think the headers and carbs are aftermarket! Looking forward to car shows in the spring! Yes, we don't believe in trailer queens, it is driven to car club events! Submitted by Chris Mangino, 02/24/2008.
Email: cgino@aol.com

No photo available. 85. VIN 2E72X258278, BODY 71B, COLOR X, TRIM 74, DATE 08V, DSO 23, AXLE 1, TRANS 4
Options: Power steering and two tone interior appear to be the only options.
Comments: The car is not horrible but has been hit on passenger side rear and will need a new tailgate, pass rear window, pass rear quarter panel. The wreck broke both rear body mounts on both sides so will need the body pulled, but car is very restorable and in pretty descent shape. It''s a little more than I want to tackle. I got two cars in the deal and needed the other for parts for my 65 Fairlane Pro Street. I was hoping to fix the wagon and use it to tow my Pro Street around. A pretty cool combination. The car run''s and drives but needs a little fixing up. It has a current tag thru 09/05. I''ve got $900.00 invested that's all I'd like out of it. The car is in Orlando Fl and I can be reached at 407-290-6565 days or 407-491-3028 (cell) anytime. I was hoping to do the work myself but would, at this point, prefer to put the money into completing the 65 Fairlane. If anyone may be interested please call and I'll be as helpfull as possible with description and any info necessary. Please help me save another cool car from oblivion. Thanks Tim Submitted by Tim Manes 07/14/2005.
Registry Note: Sale info up to date as of 7/14/05. This 4 door 6 passenger Country Sedan needs to be saved.
86. VIN 2E65W240636, BODY 76A, COLOR J, TRIM 35, DATE 22F, DSO blank, AXLE 3, TRANS 4
Options: Cruise-O-Matic, Radio, centerline hood ornament, front & back bumperettes.
Comments: Built in Mahwa, New Jersey on June 22, 1962, a beautiful Rangoon red, Condition 2 to 2 1/2, Intake manifold changed for edelbrock , 2bbl replaced with Holley 4bbl, refitted with 15" Lincoln wire wheels, some detailing under the hood. Original intake, rims, owners manual and shop manual with the vehicle. Sticker certified in New York state 2004, now certified and licensed in Ontario Canada. Submitted by Roger Hinksman 07/16/2005.
No photo available. 87. VIN 2N63B120331, BODY 65A, COLOR M, TRIM 35, DATE 29A, DSO blank, AXLE 5, TRANS 5
Options: 406 Engine, 4 barrell carb, 4 speed trans.
Comments: Bought the car about 3 years ago. Needs engine & transmission. Car is competly apart waiting to be restored. If anybody knows anything about this car or where I can purchase a 406 ci engine or parts for a 406 engine contact me. Submitted by Ernie Hopkins, 7/16/2005. Email: fivepoints@charter.net
Registry Note: This is the third B code car in the registry. The others are number 19 and 40. The B code has the 406 engine with single 4 barrell carb and as of yet, like the G and M code cars, the production numbers for the B code 62 Galaxies are unknown. Hopefully someone can help Ernie out with parts and an engine and transmission.

88. VIN 2N62X101507, BODY 54A, COLOR A, TRIM 35, DATE 12J, DSO blank, AXLE 1, TRANS 3
Options: A/C
Comments: Great condition, no rust. Submitted by Joe Lynch, 7/18/2005.




89. VIN 2U63B128194, BODY 65A, COLOR M, TRIM 35, DATE 30A, DSO blank, AXLE 9, TRANS 5
Comments: First seen this 62 bench seat Galaxie 500 4spd at a little yearly automotive fleamarket in Stirling, Ontario sitting on a trailer. Didn''t buy it at the time because I''ve never heard of a 406 before since they were only made in the US. Kept the owners phone number but as with everything in life, your priorities change when you have kids, and I lost track of the car for years but I still kept kicking myself in the butt regularly for not buying it when I first seen it. Years later I finally gave it a concerted effort to find this car using the old phone number I had. After searching and making extensive long distant phone calls, most with dead ends, I finally found the same car 10 years later in someones backyard about an hour from home. The car had went through 4 other owners in every corner of Ontario in that timeframe and the last owner had plans to make it an oval track racer and had dismantled the complete front end of the car. The car is now currently under full body off restoration, the frame, suspension, rearend and tranny are completely restored and the body is almost "stripped" of its paint. This car came with a 1962 tri-power unit but I'm currently looking for the correct date coded 4bbl intake to bring it back to stock. After doing extensive research over the yrs on 406's and reading everything I can get my hands on, I firmly believe that the "B" code 406/385hp is far rarer the the "G" code 406/401hp tri-power. Couple that with a bench seat with a 4 speed with 4:11 factory rearend and its almost in the "hens teeth" category. I only wish you could research old Fords the way you can research Corvettes! Submitted by Ron, 07/30/2005.
Registry Note: The Registry thusfar has no production numbers for the 62 Galaxie B, G and M code Muscle Cars that were produced. They are all in the "hen's teeth" category and Ron thanks for saving this B code car from certain destruction on the race track. Send us photos when you can regardless of the state of the car.
90. VIN 2E65V208101, BODY 76A, COLOR D, TRIM 37, DATE 23D, DSO 12, AXLE 6, TRANS 3
Comments: I can send pictures later, just excited about owning it. Submitted by proud new owners TOM & KAY HOFFMAN, 08/01/2005.
No photo available. 91. VIN 2U64X125752, BODY 75A, COLOR M, TRIM 35, DATE 02A, DSO blank, AXLE 1, TRANS 4
Options: Power steering, Power Brakes, Padded dash
Comments: Body is rusted fairly bad in some spots but is pretty straight. Only missing a couple pieces of chrome. Engine and radiator are gone. Submitted by Steve Taylor, 08/05/2005.
92. VIN 2G62W137626, BODY 54A, COLOR A, TRIM 45, DATE 21M, DSO 4112, AXLE 6, TRANS 1
Options: None I'm aware of.
Comments: Parts car status only. Sorry. Pulled from pasture 8-3-05. Very, very rusty. Best thing on car is probably 3.56:1 ratio 9". 292 Y-block is locked up good. Submitted by Dale Gier, 08/09/2005.

93. VIN 2G69G179201, BODY 76B, COLOR J, TRIM 85, DATE 30D, DSO 35, AXLE 5, TRANS 5
Options: 406 engine.
Comments: Ron and Becky Stevick of Jackson, Michigan have owned this beautiful G Code Galaxie 500/XL since 1972. I met Ron and Becky at the 2005 Galaxie National Show in Dearborn, August 13, 2005. Submitted by Paul 08/28/2005.

94. VIN 2E69Z248503, BODY 76B, COLOR I, TRIM 86, DATE 20G, DSO 11, AXLE 1, TRANS 4
Comments: This Galaxie is owned by Drew Belian of Royal Oak, Michigan. I met Drew and saw this car at the 2005 Galaxie Nationals in Dearborn August 13, 2005. The car was originally Castillian Gold, a color that came out in the '62 mid producton year. Drew was kind enough to point out a trim installation error that I added to the Restoration Tips page here in the Registry. Submitted by Paul 08/28/2005.

95. VIN 2U61X142082, BODY 62A, COLOR V, TRIM 39, DATE 05D, DSO 21, AXLE 1, TRANS 4
Comments: This Galaxie is owned by Art and Shirley Ames of Garden City, Michigan. It has had disc brakes added. The car as of the 2005 Galaxie National Show on August 13, 2005 was for sale with an asking price of $12,500. Submitted by Paul 08/28/2005.
96. VIN 2G51V204176, BODY 62B, COLOR M, TRIM 25, DATE 20G, DSO blank, AXLE 6, TRANS 1
Comments: Interior redone, full Firestone air ride set up, 65k miles, real low and slow, flat black with lake pipes and flame throwers, soon to be 302 auto and disc brakes Submitted by Travis, 09/12/2008.
97. VIN 2E62V246629, BODY 54A, COLOR H, TRIM 32, DATE 18G, DSO 11, AXLE 6, TRANS 1
Options:500 PACKAGE, RADIO, HEATER, TINTED WINDSHIELD, BUMPER GUARDS FRONT AND REAR, SEAT BELTS
Comments: Included is a photo of my ForDor Galaxie Town Sedan before restoration. Original power plant contained a 6cyl and 3 speed column shift. Believe it or not the 6cyl was a special order and not to common on the Galaxie 500 package as I have heard. The car now sports a 390 FE (built by me) and a Cruise-a-Matic tranny at the moment other improvements are a rebuillt front end, power disc brakes, air conditioning, and a through cleaning and is now in the process of paint. I drove this car in my High School days and finally inherited the car about 6 years ago and should have the project complete sometime this winter. Submitted by Gary "Ratt" Witthans, 09/15/2005.


98. VIN 2E69X227338, BODY 76B, COLOR V, TRIM 85, DATE 26E, DSO 15, AXLE 1, TRANS 4
Options: Power Steering, Power brakes, Power drivers seat.
Comments: Just purchased this beautiful un-restored chestnut XL from it's second owner who purchased the car in 1964. It has 97,000 original miles. Drivers seat has a tear and the right side of the motor is smoking a bit. It has the original floor mats in it. Submitted by Chris Kentrus, 09/20/2005.




99. VIN 2W51M116222, BODY 62B, COLOR J, TRIM 25, DATE 10A, DSO blank, AXLE 5, TRANS 5
Comments: Here's another M-code for you! This Club Sedan has 34,000 miles, which appear to be original. Has factory over-the-counter fiberglass fenders and hood. It's rust free but had a groovy '70s mural down the sides, so I had it taken to bare metal and painted in the correct single-stage Rangoon Red. Interior is untouched except for an old 3-point roll bar, Hurst shifter, '62 Sun tach, and new carpet to replace the '70s shag. As you can see, I wanted a circa-'62 Super Stock look, down to the tow tabs and whitewall cheater slicks. The original engine was long gone, so I went with an FE stroker from Keith Craft Racing Engines. My goal was low 12s on pump gas while retaining the appearance of the original engine, so I used a correct 3x2 setup and gold Thunderbird valve covers with 390 high performance decals. It's now a 428 block with a 4.25" crank, for 456ci. The CNC-ported Edelbrock heads are painted black, with the logos milled off. I wanted to use correct cast-iron shorty headers, but they lost 70+ hp on the dyno. With tube headers, it made 560 hp @ 5,800 and 560 lb/ft @ 4,300 with a very streetable hydraulic roller cam. (This engine makes 590/590 with a modern dual-plane and Davinci 4-barrel, so the old 6V does pretty well!) Has a toploader and bulletproof 4.56 rear. Full 3" exhaust with cutouts, and round Ultra Flo mufflers in the stock locations. Weighs just under 3,800 lbs without driver. With severe wheelhop its first time out, it still ran 110+ mph with heat and humidity in the mid-90s, so reaching my goal shouldn't be a problem once the launch is sorted (I've since replaced the old T-bolt-style traction bars with Cal-Tracs). I'll update you soon with those results… Submitted by Mike Williams, 09/27/2005.




100. VIN 2U64X115922, BODY 75A, COLOR M, TRIM 35, DATE 17L, DSO blank, AXLE 1, TRANS 4
Comments: This Galaxie 500 Town Victoria is owned by Doyle and Karen Harrison of Taylor Michigan. The Harrisons have maintained the car in beautiful stock original condition.
Registry Note: I think it was some kind of an omen that after driving nearly 600 miles in my Galaxie this beautiful 4 door hardtop pulled into the Hyatt Regency parking lot right behind me for the 2005 Galaxie National Show in Dearborn. I immediately got out of my car to go see if I was seeing things. This car is option for option exactly like my first car described on the Registry Home page. I could see no differences at all between this one and my car. Could this be the one? I may do a little chasing of the VIN. In the meantime, I have given it the prominent location of Registry Entry number 100 as a tribute. Paul