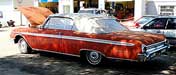 301. VIN 2U65W164477, BODY 76A, COLOR J, TRIM 35, DATE 16G, DSO 24, AXLE 1, TRANS 3
Options: Auto Trans, PS
Comments: Left messages on windshield for years--got a call this morning to come get it. Original family ownership and their business location is 1/4 mile away from original selling dealership. Has 106000 miles on it. Current plan is to do the usual fluid changes and drive around this weekend--then strip and repaint original Rangoon Red. Remarkable survivor especially for a convertible and also for being a Florida only car. Submitted by J P Bourne, 02/19/2008.
Email: jBOURNE@CFL.RR.COM
No photo available. 302. VIN 2G69X161635, BODY 76B, COLOR M, TRIM 82, DATE 14C, DSO 54, AXLE 1, TRANS 4
Options: Power Steering, Clock, AM push button radio, Reverse lites, dual outside Ford mirrors, deluxe wheel covers
Comments: Purchased June 2007 in Couer D'alene, Idaho and drove it home to Manitoba, Canada. Previous owners had performed various levels of restoration, but not a total restoration. The car currently has 83,400 miles on the odometer. Seems to be original. The car was repainted in 1999 and appears to have no rust issues and does not appear to have much, if any body filler. It runs and drives great. This is my 3rd 1962 Ford convertible. It will be my summer driver and fun car. Hope to be able to submit pictures come spring when we get it out. Submitted by Jim & Donna Cameron, 02/25/2008.
Email: jimcameron@xplornet.com
No photo available. 303. VIN 2U65X115099, BODY 76A, COLOR T, TRIM 34, DATE 15A, DSO 15L, AXLE 1, TRANS 4
Options: Currently refreshing the car. Installed 390, C6, disc brakes. Everything new. Rechrome bumpers, new top, new interior.
Comments: Original owner, purchased in Jan. 1962, Heintzelman Ford Orlando, Fl. No other owners. Family owned since new. 64000 miles. Submitted by Gary Covell, 02/29/2008.
Email: gcovell@cfl.rr.com

304. VIN 2N62X145520, BODY 54A, COLOR M, TRIM 14, DATE 16L, DSO 22, AXLE 1, TRANS 4
Comments: Currently located at Waugh Enterprises, 1640 New Franklin Road, Lagrange, GA. The car looks to have sustained heavy frontal damage a number of years ago. Submitted by Arthur Ash III, 03/18/2008.
Email: arthur@tbirdregistry.com
No photo available. 305. VIN 2J65M123407, BODY 76A, COLOR V, TRIM 39, DATE 27L, DSO 721113, AXLE 5, TRANS 5
Options: Power windows, 390 6 barrel, 4 speed, power seats, spotlight.
Comments: Let me start by saying I am a Chevy guy but came across this car in a barn. It hasn't been on the road since 1969. How rare is it? It has power windows, seat, top, fender skirts, spot light. I did find a buildsheet under the front seat. The build sheet is kinda rough but you can see vagely that it is a M-code, 4spd ,with power windows, seats, top, safety package, tint glass, looks to be optional tires and hubcaps. Submitted by Matthew Lamer, 03/20/2008.
Registry Note: Mathew, How rare is it? With the listed options, convertible, M code, 4 speed, power windows and seat etc. possibly a one-of-a-kind. The buildsheet is extremely important to this car and its value as a very rare muscle car. It is very important to preserve it, regardless of its condition. I recommend it be copied.
UPDATE: 07/29/2017
Hi, Paul,
My name is Dave Walters. I'm the current owner of 2J65M123407. Its been with me since September of 2015 and I apologize for not emailing you sooner to give you an update. As Registrar of the 427 Galaxie Registry, I want to thank you for your time that you take to run and organize the 62 Ford Registry as I know the challenges that you face and it isn't always easy to manage.
I've got two partial build sheet that clearly show the CUN along with the M and 5 in the engine and transmission spots. Looks like there are 6 M code Sunliners listed in the Registry right? Like the rest of the Fords from that era, very little production information exists to put solid numbers on these cars which is a real shame. I've been able to estimate that Ford built between 2500 and 3000 390 High Performance equipped Full Size cars between 62 model year start up in August 1961 to the end of 390 HP production sometime in mid to late January 1962. How many 4V or 6V engines were made or how many of what cars they were put in is anyone's guess.
The original engine and transmission were long gone but since I've bought it I was able to locate a correct 390 HP engine and 3x2 set up for the car. Still looking for the right transmission but I have a lead. The car is in storage now but I will gladly get some photos of it when I get the chance. I have the engine in my shop so I'll get you a few photos in the next week or so.

Dave Walters
427 Galaxie Registry
No photo available. 306. VIN 2D63M132362, BODY 65A, COLOR A, TRIM 35, DATE 16B, DSO 1, AXLE 5, TRANS 5
Options: From build sheet: springs front –T, rear –e, shocks –T, radiator –G, drive shaft –P, Eng M, Tires size 5 type 2
Comments: My dad bought the car new in 1961. I have the build sticker from under the back seat. I am restoring the car now. The car has no rust and is in pretty good shape. I have all 5 kelsey hayes 15 inch rims still on the car. I have the original window sticker . Submitted by Billy Young, 03/20/2008.
Email: billy.young@excite.com


307. VIN 2E63W148368, BODY 65A, COLOR V, TRIM 39, DATE 21M, DSO , AXLE 1, TRANS 4
Options: AM Radio, P/S, Cruise-O-Matic transmission
Comments: Car is currently under new ownership. Was purchased from previous owner who had started restoration on it but was never completed. Car will either be resold or parted out. Submitted by David Adams, 03/23/2008.
Email: ford_mustang289@yahoo.com

No photo available. 308. VIN 2N62X144800, BODY 54A, COLOR I, TRIM 16, DATE 23E, DSO blank, AXLE 1, TRANS 4
Comments: I'm the 3rd owner. Bought from a little old lady, in which her husband has passed away and just wanted it gone. They bought it in 68. We put fresh gas and a battery in it and she fired right up after being parked for 5+ years. Submitted by Michael Womack, 03/23/2008.
No photo available. 309. VIN 2J62Z168890, BODY 54A, COLOR MJ, TRIM 35, DATE 05F, DSO blank, AXLE 1, TRANS 4
Options: Power steering, AM radio, Deluxe Wheel Covers, Power seat (4 way), Two Tone Paint, Safety Package "A"
Comments: The first owner was the mother of the Ford dealer in Odessa, Washington. The car was handed down to her Grandson, then sold to the second owner who owned the car from 2002 until now. I purchased the car from him, and drove the car home 750 miles to California with no problems, averaging 15 mpg!
Everything on the car is Original, with only 64,400 miles since new. Interior is near perfect. Exterior is excellent with no rust problems.
Lower body was repainted in original Corinthian White, although not the best paint job by a long shot. Top of the car is the original Rangoon Red paint, and I am slowing brining the shine back to it. Only real blemish is a couple chips in the windshield. Submitted by William Peachee, 03/25/2008.
Email: bpeachee@hotmail.com
No photo available. 310. VIN 2N62X132657, BODY 54A, COLOR H, TRIM 12, DATE 16C, DSO , AXLE 1, TRANS 4
Comments: Midst of extensive rebuild. Engine wasn't taken care of. Water pump blown. Cylinder walls gouged, so on and so forth. However body and frame in great shape. Submitted by James Heath, 03/30/20087.
Email: rooster0351usmc@yahoo.com

311. VIN 2U69X146039, BODY 76B, COLOR A, TRIM 85, DATE 17D, DSO 55, AXLE 1, TRANS 4
Options: Bumper guards front and rear. Center hood ornament. Selectair air conditionin, power steering, power brakes, stainless fender skirts, push button radio, remote trunk lid release.
Comments: Numbers matching, stock everything. I just purchased this Galaxie and couldn't be happier. Great website...I learned a lot here prior to my purchase. Submitted by Brad, 04/05/2008.

Brad, Glad you found the 1962 Ford Galaxie Registry web site useful. That is the intent.
No photo available. 312. VIN 2E62X235807, BODY 54A, COLOR P/N, TRIM 13, DATE 13F, DSO 15, AXLE 1, TRANS 4
Options: Ford Air Conditioning, Power Steering, Cruise-O-Matic, and all the standard Galaxie 500 features.
Comments: I bought this car in March 2008 from a young man in Greenville NC, who purchased it in 1998 out of Cincinnati, Ohio. Restoration work was limited to a paint job, seat re-upholstery, and exhaust work at that time.

I have replaced many exterior and interior trim parts, in addition to gaskets, generator, water pump, and other mechanical parts. After buying new emblems and some stainless trim pieces, I would highly recommend those thinking about buying one of these cars find one that has all the right emblems and trim pieces because the companies that make re-production parts are quite expensive. Some are extremely hard to find, for example, I have still not been able to locate the stainless steel pieces that go on the bottom of the rear quarter panels.

Currently I am gathering parts to overhaul the air conditioning system. Other future plans include replacing the tires with the correct size bias ply tires, adding an auxiliary electric cooling fan, having the rear springs re-shaped, and adding some period accessories.

This is a great old car to drive around town. To be quite honest, I'd rather drive the Galaxie than my new, modern Ford car. The 352 V8 is a solid running engine, even though you would expect a big-block Ford to have a bit more power. My only complaint is the rather poor gas mileage and the lack of overdrive. The power steering is nice, and I don't mind at all the fact that this car does not have power brakes (even though I'd like to update the master cylinder to a dual version).

When I was a child, my grandfather drove a '61 Galaxie Tudor and I have been in love with the early '60's Galaxies ever since. They sure don't make them like this anymore. Submitted by David Thomas, 04/17/2008.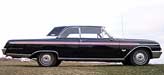 313. VIN 2U63Z149220, BODY 65A, COLOR A, TRIM 56, DATE 12E, DSO 21, AXLE 1, TRANS 4
Comments: Car is in mint condition with 70000 miles on it. This car came from Alabama, was purchased off of ebay and fixed up. This is my fifth Galaxie and my wife owns one that will be on here soon! I have owned this one since '04 and this year I was able to get in it and turn the key and go. If anyone needs some information or refurbished parts for these cars email me at cl.white@hotmail.com and I will try to help you out. These cars are hard to find parts for. Submitted by Curtis White, 04/17/2008.
Email: cl.white@hotmail.com
No photo available. 314. VIN 2U62X163223, BODY 54A, COLOR M, TRIM 32, DATE 10G, DSO 21, AXLE 1, TRANS 4
Comments: This 1962 Galaxie 500 is located at Mack Waugh Enterprises, 1640 New Franklin Road, Lagrange, GA. It looks to be in fairly complete condition. Submitted by Arthur Ash III, 04/22/2008.
Email: arthur@tbirdregistry.com
No photo available. 315. VIN 2J63W126386, BODY 65A, COLOR M, TRIM 12, DATE 05M, DSO , AXLE 1, TRANS 3
Options: power seat
Comments: Spent all its life in California. Good condition, new paint and wide whitewalls. Interior getting done also. Submitted by Tom Lopez, 05/03/2008.
Email: fastcars4me35@yahoo.com
No photo available. 316. VIN 2E65Z230706, BODY 76A, COLOR M, TRIM 35, DATE 01F, DSO 25, AXLE 1, TRANS 4
Options: 1962 Galaxie 500 Convertible. 390, Cruise-O-Matic Transmission, Power Steering, Power Brakes, Corinthian White, with all vinyl Red Interior, Fender Skirts, Hydraulic power Top.
Comments: In great shape, Garage kept, Located in Lynch Station Va. A true pleasure to just sit back and cruise in! Submitted by Matthew Collier, 05/03/2008.
317. VIN 2N61X132448, BODY 62A, COLOR A, TRIM 16, DATE 15C, DSO , AXLE 6, TRANS 2
Options: Thunderbird 352 2V spcl 8 $51.50, Overdrive $108.40, 750X14 wsw tires $33.90, Pushbutton Radio $58.50, Tinted Glass $40.30, Deluxe Wheel Covers $26.40, Backup Lights & Clock NC.
Comments: Car has 29,800 Documented Miles. 100% Rust free. Have original window sticker, Original Title, Original Sales and loan agreement. Submitted by Everett Spiegelhalter, 05/09/2008.
Email: em297@optonline.net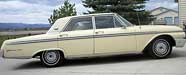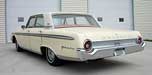 318. VIN 2J62W146606, BODY 54A, COLOR RM, TRIM 14, DATE 20B, DSO 74, AXLE 1, TRANS 4
Comments: 1962 Ford Galaxie 500 4dr Town Sedan - Recent professional rebuild of transmission - Sleeved and rebuilt master cylinder -Replaced both front wheel cylinders - Straight body with minor rust under paint on lower door edges - Original Corinthian White top with Tuscon Yellow body - Runs and drives great - Photos Available by e-mail - Is for sale @ $4,500 OBO Submitted by Martin Gilman, 05/10/2008.
Email: martin020@centurytel.net

Registry update - 10/18/2009:
Sir,
I thought I would write to let you know that I am now the new owner of registry number 318 vin number 2J62W146606. The car is now stationed in Denver Colorado as my driver. I have replaced the tires, fluids, completed a tune up, installed a pertronix kit, licensed it, and a bunch of other repairs. I have two other 62's both four door sedans one is a recently bought parts car and the other I've had since I was sixteen. I will send photos of all three cars and vin and data plate information once I return from Tallil Iraq where I support the soldiers as a FSR in the Warlock program. I am a big fan of the 62 with my favorite being the four door hardtop and two door post body styles but I'm perfectly happy with my more doors I am only 29, newly married, and I hope to pass my high school car onto my future children after a full nut and bolt frame off restoration. Take care - Brian K Ballard WARLOCK JCCS-1 Tallil Iraq

P.S. Do you know where I can get a set of factory skirts, spotlight, bumper guards, center hood ornament, and a trunk release?
Registry comment: Brian, Just search the internet. I have seen all of these items on ebay from time to time.

Update 1/19/2010
I completed quite a bit more work on the old girl while home on leave this November. I had to have surgery but as soon as I felt well enough I got to work!
1) Conversion from generator to power master one wire "power gen" alternator.
2) Replaced all the mangled trim (grille, ornament, side trim etc.) with good used.
3) Installed a new gas tank, sending unit, and straps.
4) Repaired reverse lights, horn, windshield washer, turn signals and rebuilt the heater using new and NOS parts.
5) Installed a stock type dual exhaust.
6) Fabricated a package tray, had the clock converted to quartz movement, and installed a lot of new emblems, trim, seals, switches, hoses, shocks, and made a myriad of small repairs.

Next on the list when I return home the motor comes out for a rebuild and detail, a new suspension goes in, the steering gets rebuilt, and the rust gets patched in the rear wheels houses, trunk and front floor. Please enjoy the photo's - Brian K Ballard Al Kut Iraq

photo 1 is the car in front of the sign to the petrified forest nat'l park New Mexico on a recent road trip.
No photo available. 319. VIN 2J61X167094, BODY 62A, COLOR M, TRIM 16, DATE 28E, DSO , AXLE 1, TRANS 4
Comments: I'm the third owner and it has 92,000 miles on it. All original paint and interior. Drives beautiful. Submitted by Ty Phillips, 05/12/2008.



320. VIN 2E74V164168, BODY 71C, COLOR A, TRIM 75, DATE 24A, DSO 0455, AXLE 5, TRANS 1
Options: Power Tailgate Window, Electric W/S wipers and washers, Backup Lights, Electric Clock and Safety Package "A". This car was also since new equipped with what I believe are 4 aftermarket options pretty much standard on Scandinavian Fords: Radiator "Blind-fold Curtain", Rubber Ford-logo "Wheel Splash Guards", Waso Gear Stick Lock and Outside Rear View Mirrors. Hood- and fender spears/ornaments were against Swedish law and has never been mounted.
Comments:

Hello,

I've done some research of my Ford's background, and would like to submit it to the 62ford.com registry. Note our awsome street cruising last Saturday in the town of Tidaholm [ http://www.cruisers.se/ ], with some 800 - 1000 old classic American cars attending!

Ford 9-passenger Country Sedan, This car is stock everything, from the Swedish Owners Manual to the original paint and rubber floor mat, but the old 14" x 8" 6 ply wheels are however replaced with Smoothies and modern WW radials.

This Ford served as a taxi cab outside the city of Stockholm 1962 - 68. It was since used for only short trips in the summers until it got permanently stored away in 1980 for a period of almost 23 years. There are some rust related issues at the lower end of the tailgate and the rear fenders, plus there are some rips on the driver's seat, but nothing too serious. I am the 7th owner and bought the Country Sedan only a month ago.

I and my family really enjoy cruising in a completely unrenovated car with no creak or those tiny noises that somehow often emerge when you disassemble and then put a restored car back together. We live outside Ullared in Sweden, and also own a neat 1959 Edsel Villager 9-p Wagon - a real "gas dragon" with a 429"/C6 under the hood. However this Country Sedan turns out a mileage that makes it much more fit to our deterrent gas prices, which is today $2.18/liter ($8.25/U.S. Gallon) including taxes. The stock 223" engine makes this vehicle a true "Mileage Maker"!!

Mats

Registry Note: Another great '62 Galaxie from Sweden. Note the cruise photo and the options on this car. The TRANS code of 5 was added to satisfy the automatic decoding program. Either the DSO is 045 and the axle code is 5 or the DSO is 0455 and the axle code is blank as it looks in the patent plate photo. Thanks Mats for entering this Swedish gem.