No photo available. 441. VIN 2D67Z140910, BODY 65B, COLOR M, TRIM 89, DATE 09D, DSO 61, AXLE 1, TRANS 4
Comments: Came from Texas. In Mass. now. In process of being made road ready. Submitted by Bill Murphy, 08/19/2010.

No photo available. 442. VIN 2W65G132013, BODY 76A, COLOR A, TRIM 56, DATE 20D, DSO 32, AXLE 9, TRANS 5
Options: SPOTLIGHT/REARVIEW MIRROR.
Comments: Complete restoration. Original except original block freeze cracked but came with the car and may be able to be fixed. If anyone has a 406 block near April 20, 1962 I am very interested. Car #383 is an ambitious restoration project and is now for sale. Includes XL parts donor/builder, and spares. Submitted by Chris Emory, 08/19/2010.
Email: ccemory@cox.net
UPDATE: March 2017
The original block has been repaired by 'cast iron' Mike at cast iron repair specialists in Marysville Washington. Engine has been built by Survival Motorsports and in going back in the car now.

443. VIN 2P62X193520, BODY 54A, COLOR XM, TRIM 14, DATE 21G, DSO blank, AXLE 1, TRANS 4
Options: Power Steering, clock Comments: I picked it up a year ago. All original inside and out (except wheels). Work in progress. Gonna be a project for me and my 2 boys. I have some ideas on what to do with it, can't wait to see the outcome! Submitted by gabe, 09/01/2010.
Email: gmjimenez@kc.rr.com

444. VIN 2P62X156985, BODY 54A, COLOR V, TRIM 39, DATE 09C, DSO blank, AXLE 1, TRANS 4
Comments: New vinyl over original seats and door panels (Tan with white stripe). All interior trim refinished tan with new brown carpet. Everything else original (I have different wheels but I do have great condition originals with hub caps). I also have original tree jack, lug nut remover, and never used snow tire chains with the FOMOCO bag, and washer fluid bag (I've always heard that's the stuff that goes missing). What I am missing is the original glove box manual. Submitted by Corey Meyer, 08/23/2010.
Email: my_lexus_ls400@yahoo.com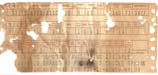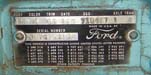 445. VIN 2J67G158180, BODY 65B, COLOR M, TRIM 88, DATE 16D, DSO 710467, AXLE 1, TRANS 4
Options: Safety package, 406 engine, Special Automatic Transmission, HD Pulley, Riveted brakes, HD shocks, Spring suspension, Sway Bar.
Comments: Car is being restored. I'm desperate for info on this car. I bought the car out of LA area 5 years ago. I soon found the build sheet on passenger door panel. Dick Heyler from Performance Associates raced a 2dr post for Ben Alexander Ford out of LA with good success. Good chance car came there. Hopefully some info on this car will surface.

I also have a '62 2dr post G code with an overdrive trans.(2 code). Not a special order car. Submitted by Paul for current owner, 08/29/2010.
Email: Galaxiedriver@centurytel.net

Registry Note: Thank you Tim for sharing this rare gem with us. Keep us updated with your restoration progress.

All of the 1962 Galaxie brochures, flyers and folders state that the 4 speed manual transmission is required behind the 406 engine. Here is an exception to that "rule." This very well could be a one-of-a-kind 1962 Galaxie. A G Code, 406, that came from the assembly plant with an automatic transmission.

The Registry prides itself in the accuracy of the information posted here. So, given this documented rare exception, the Options page Transmission information will be revised to indicate that the 4 speed was not necessarily "always" required behind the 406.

Not only was Ben Alexander a hugely successful Ford Dealer, he was also a well known actor who worked with Jack Webb in the 1950s Dragnet series. Google him.
No photo available. 446. VIN 2J61X156804, BODY 62A, COLOR T, TRIM 34, DATE 09D, DSO blank, AXLE 1, TRANS 4
Options: A/C
Comments: Car is currently all original and a good candidate for restoration. I am currently getting it ready to license before tearing it apart. Submitted by ALEX WARE, 09/16/2010.
Email: alex1023@davesbodyshop.com


447. VIN 2W67X150103, BODY 65B, COLOR A, TRIM 85, DATE 11G, DSO blank, AXLE 3, TRANS 3
Comments: 45000 miles, Original Raven Black paint & Red Pleated Vinyl. Was 352 ci, now 445 Cubic Inch 406 tri power. Built C6 Auto. Have owned for 5 years. Fun to Drive and show. Rod Lite Weld Wheels, Firestone radials. Made in Michigan still in Michigan. This True Ford Muscle !!!!! Submitted by John Ferguson, 09/23/2010.
No photo available. 448. VIN 2J67Z169169, BODY 65B, COLOR T, TRIM 34, DATE 04F, DSO blank, AXLE 1, TRANS 4
Options: Uninstalled "Selectaire" under dash Air conditioning
Comments: 3rd Owner. Stored (covered) past 20 years, needs complete mechanical restoration. Body and Interior are in excellent unrestored condition. The interior is spectacular with all Mylar intact. Original headliner threads let loose 2008. This car is an excellent restoration candidate. If someone would like to make me an offer I cant refuse, I would consider selling this car. I intend to do a video tour of this car for YouTube. I'll forward some interior photos for your reference page in the near future. Car is located in Big Bear Lake Ca. Submitted by Lyn McClure, 09/25/2010.
Email: syntonossailor@yahoo.com
449. VIN 2G61B139601, BODY 62A, COLOR V, TRIM 39, DATE 27M, DSO blank, AXLE 5, TRANS 5
Options: 406 4V high performance engine, HD springs and shocks, fade resistant brakes, 4 speed manual trans, fresh air heater, 710X15 wsw tires, pushbutton radio, vinyl interior trim, padded dash and visors, seat belts. Has chrome engine dress up kit.
Comments: Car is in primer and almost ready to paint. Engine has been rebuilt and under hood detailed. Interior is mostly finished. Car seems to be all correct and original except it now has a tri-power set up, but has original 4V manifold, carb and air cleaner. Submitted by Richard Hosner, 09/27/2010.
Email: Rhosner@aol.com



450. VIN 2J67X161625, BODY 65B, COLOR F, TRIM 82, DATE 02E, DSO blank, AXLE 1, TRANS 4
Options: Select Aire Air Conditioner; Power Steering
Comments: Original engine re-built, transmission re-built; new original paint, original interior in great condition; Air conditioner works great. Rides great. Submitted by Joe Bourgeois, 10/04/2010.
Email: joe-b75@cox.net
No photo available. 451. VIN 2J64Z112395, BODY 75A, COLOR HM, TRIM 12, DATE 25K, DSO blank, AXLE 1, TRANS 4
Options: Just a/c
Comments: Imported into New Zealand 2010, in pretty much rust free condition, runs nicely, needs attention as still has original paint and interior. Will be looking for good contacts for reproduction emblems, outer headlight bezels, some trim items. My car is in original condition and runs like a dream. Submitted by Annette, 10/04/2010.
Email: madcatering@xtra.co.nz
No photo available. 452. VIN 2N51X132988, BODY 62B, COLOR E, TRIM 22, DATE 21C, DSO blank, AXLE 1, TRANS 4
Comments: Good condition, very light rust, floors good, 302hp in it out of a 1985 GT 5.0. Looking for 352! 10-26-2010 Submitted by MICHAEL DAVIS, 10/26/2010.

Update 09/21/2011: Car is still running great! I am about to send it to the body shop. Wish me the best of luck!! Submitted by MICHAEL JAMES DAVIS, 09/21/2011. Email: mikedavis70485@gmail.com

Good luck Mike, but I'm not sure luck has a lot to do with the restoration of a great old car. Patients and attention to detail will be better than luck I think.

Paul
No photo available. 453. VIN 2E65X132043, BODY 76A, COLOR H, TRIM 32, DATE 24L, DSO blank, AXLE 1, TRANS 4
Comments: Very nice condition, 95k+ miles, not show, but very clean driver. Submitted by Steve & Janet Johnson, 11/09/2010.
Email: sjohns2@pressenter.com
No photo available. 454. VIN 2J69Z163002, BODY 76B, COLOR J, TRIM 85, DATE 17E, DSO , AXLE 1, TRANS 4
Options: A/C P/S P/B
Comments: Car is original except- new griffin aluminum radiator, new Sanderson Headers, disc Brakes Mileage is correct 52400 miles. Submitted by JOHN - LINDA CORNELIUS, 11/28/2010.
Email: JOHNLINDACORN51@AOL.COM
No photo available. 455. VIN 2P63G165599, BODY 65A, COLOR J, TRIM 35, DATE 11D, DSO , AXLE 9, TRANS 5
Options: This Galaxie has push-button radio and back-up lights (not sure if these were options, or standard.) Heater, also.
Comments: I believe that I am the third owner. It had been in Nebraska all of its life that I know of. An old gentleman who was a Ford dealer mechanic around Hastings, NE lovingly cared for it and mostly restored it. Either he or someone he trusted worked on this piece of Ford history. The underside is unmolested and rust-free, and the vinyl seats are original and in excellent shape. It has about 68,000 miles on the clock. I bought it from his daughter whom I assured that the Galaxie was going to an excellent home, and that its history of appearing in car shows would continue. I have had it about 2 1/2 months and it is now in storage near La Crosse, WI (I learned to drive in a 1962 Galaxie Fordor that my Dad bought new, which also was built in St Paul.) Submitted by John Heim, 12/15/2010.
Email: jfheim@centurytel.net
No photo available. 456. VIN 2N62X140569, BODY 54A, COLOR VM, TRIM 39, DATE 30D, DSO 21, AXLE 1, TRANS 4
Comments: Submitted by Matt Davis, 12/18/2010.
Email: matdavis22@gmail.com
No photo available. 457. VIN 2G63G172114, BODY 65A, COLOR V, TRIM 39, DATE 10D, DSO 14, AXLE 9, TRANS 2
Options: Radio Heater
Comments: Submitted by Ken Heckert, 01/06/2011.
No photo available. 458. VIN 2N62X148090, BODY 54A, COLOR A, TRIM 16, DATE 12F, DSO , AXLE 1, TRANS 4
Comments: Just bought the car in Dec. 2010. Car is a daily driver now. Needs a little TLC (paint job, bumpers rechromed, etc). Upholstery has been redone to a black and white vinyl. Previous owner was trying to convert it to a "rat rod", but I am trying to restore to a typical classic car that it should be. The car was bought off the show room floor in NC, but now the car is registered in Charleston, SC. Submitted by Burt Lawson, 01/12/2011.


No photo available. 459. VIN 2J64X135531, BODY 75A, COLOR A, TRIM 35, DATE 09A, DSO blank, AXLE 1, TRANS 4
Comments: I was not quite 8 years old when I "found" this car on the lot in downtown Los Angeles in 1962 while my parents were car shopping on my Mom's birthday. My folks drove it exclusively until they bought a 1966 Ford LTD in '66. This then became a second car. It eventually came into my possession after my father passed away and my mother's health declined. It is in the process of restoration as of January 2011. The car will be housed in Torrance California. Submitted by Paul Hill, 01/20/2011.
Email: Ename4me@aol.com
No photo available. 460. VIN 2U67Z142363, BODY 65B, COLOR V, TRIM 89, DATE 06D, DSO 22, AXLE 1, TRANS 4
Options: This car has a 390 4 bbl, Cruise-O-Matic drive, power steering, power brakes, fender skirts, radio, and whitewalls. I am installing factory Selectaire, and may install tinted glass. The original owners had the roof painted Corinthian white at the dealership after the car was delivered. The dealer also install stainless rain guards which run from the "A" pillar back to the "C" pillar.
Comments: This Galaxie has 70,000 original miles, and is in show condition, detailed inside and out, and underneath it is clean and detailed. Strangely this car never had a windshield washer installed, and only has single speed wipers. The original upholstery and door/quarter panels is stunning, with no loose seams or holes or scuff marks or wrinkles. According to the original owners guide, this car was sold by Alexander Motor Co. Inc., to Howard Judd, Route 8, PO Box 302, Sanford, North Carolina, on 10/11/62. The dealers name was Elaine Wilder. If anyone knows anything about this dealership, or these people, please email me. It appears this car never really left North Carolina, except for a few trips to Myrtle Beach and Spartenburg/Greer S.C. Submitted by Mike Stevens, 02/07/2011.
Email: Rangerxlt1972@aol.com