381. VIN 2J69Z167006, BODY 76B, COLOR J, TRIM 85, DATE 28E, DSO , AXLE 5, TRANS 5 Options: Radio, Power Steering Comments: Good. The car is registered in Sweden and was exported from California in 2008. Submitted by Lars Lindahl, 07/19/2009.
Email: lars@wasatrafik.se
No photo available. 382. VIN 2D72X147866, BODY 71B, COLOR JM, TRIM 75, DATE 31A, DSO 2396, AXLE 1, TRANS 4
Comments: Submitted by JERRY CLARK, 07/29/2009.
No photo available. 383. VIN 2G65G185215, BODY 76A, COLOR H, TRIM 32, DATE 10E, DSO 35, AXLE 5, TRANS 5
Options: NONE
Comments: Needs complete restoration. Found in a salvage yard in Michigan. Talked to original owner. He blew the engine in the late 60's and it ended up in a salvage yard. They tried to get it running with a late 60's 390 so original engine was removed and lost. Correct trans and rear end. Will require a donor tub for quarters and floors and convert top area due to rust. Dash and cowl is solid. I have a solid X code XL conv. That could be used for sheet metal but I hate to use it. Any help with locating a solid tub would be appreciated. Correct frame will be used. I have many spare parts to trade including a spare solid frame if anyone is interested. Any help or advice would be appreciated to help preserve as much of the original car as possible. Pictures to follow. Submitted by Chris Emory, 07/31/2009.
Email: chris.emory@vascularlab.net



384. VIN 2U65Z147825, BODY 76A, COLOR A, TRIM 35, DATE 23D, DSO 31, AXLE 1, TRANS 4
Comments: All original except carpet. Repainted in the 80's. Excellent condition with 82,300 miles. Submitted by Ronald Oaks, 08/05/2009.
385. VIN 2W63X116477, BODY 65A, COLOR A, TRIM 45, DATE 29M, DSO , AXLE 1, TRANS 4
Options: Power steering, AM radio, Cruise-O-Matic trans, clock.
Comments: 88,000 Original miles. Nice original interior, nice bumpers. CHROME Trim shiny but pitted. Real nice stainless trim. Car looks like it was patched and repainted years back. Rust showing through rockers and quarters. Some bubbles on fenders and roof edge. Still a very presentable car. (20 footer.) Located in eastern Pa. Submitted by Steven & Cheryl Haines, 08/09/2009.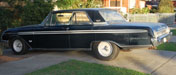 386. VIN 2J63Q133006, BODY 65A, COLOR H, TRIM 32, DATE 22M, DSO 71, AXLE 7, TRANS 5
Options: 3X2 Induction, cast long style headers, Radio, Heater.
Comments: I bought the vehicle and it came with 3 x 2 induction and 406 style long style headers in the trunk. It has Jardine headers and Centerline wheels. The paint is poor though the interior is quite good. The patent plate was removed from the vehicle by a previous owner. I did find a factory build sheet behind the passenger side door trim confirming the vehicle is Q Code. Submitted by Lou Vorkapic, 08/14/2009.
No photo available. 387. VIN 2P62X175218, BODY 54A, COLOR T, TRIM 34, DATE 10E, DSO , AXLE 1, TRANS 4
Options: Vinyl Trim, Pushbutton Radio, Tinted Windshield, Padded Dash and Visors, Undercoat, and Windshield Washer
Comments: Originally purchased by M. O. Woolworth from Oines Motors in Brookings, SD. Purchase price with sales tax and license was $3,382.88. M.O. traded in his 1959 Ford Station Wagon, allowance for wagon was $2,032.88. I'm the second owner and purchased it with 26,460 miles in 1985. It's completely original and in excellent condition. I drive it occasionally during summer months and it currently has 52,135 miles. Submitted by Roald Eidsness, 08/17/2009.

388. VIN 2P62W133668, BODY 54A, COLOR JM, TRIM 45, DATE 14M, DSO , AXLE 1, TRANS 3
Options: Deluxe wheel covers, radio, 292 w/fordomatic, two tone paint, backup lights, block heater
Comments: Two owners 127,000 miles, light rust on drivers side front fender. Everything works runs like a top. Story is husband bought car for wife in Neilgh, Nebraska in early 62. Wife died in '89. Car sat in garage till January of 2009. Husband died, bought car through estate sale. Still have original owners manual with their info on the front page. Submitted by Jason, 08/26/2009.
Email: jason89cg@aol.com




389. VIN 2J63G141335, BODY 65A, COLOR H, TRIM 32, DATE 01B, DSO 0, AXLE 9, TRANS 5
Comments: This car was found after sitting for 30+ years in a field. Luckily it was in sunny California. It retains its black Calif. plate and had 47000 original miles due mainly to a blown up T-10. It now has 59340 miles. The 406 motor was rebuilt using the original pistons (Standard Bore). The crank is standard, the heads have stainless 427 valves installed. The carbs and intake are all Original. This car has been restored twice. Once as a hot rod and now back to stock. Submitted by Bill Pratt, 09/04/2009.
Email: gcode1962@yahoo.com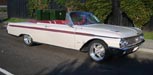 390.VIN 2J65Z148159, BODY 76A, COLOR V, TRIM 39, DATE 27B, DSO 72, AXLE 1, TRANS 4
Comments: Has had Modern improvements, Swaybars, Shocks etc, and a Hidden Morden Stero System. But in Great Condition and Runs like a dream. Not Many of these in New Zealand so I'm one Lucky Ford Fan. In my Opinion the Best looking Model. Cheers
Registry note: This has got to be among the nicest rides down in Kiwi land. Thank you for submitting it to the Registry.
UPDATE Feb. 13, 2019
Submitted by Mark Powell, 02/13/2019.
Email: mapowell@xtra.co.nz
No photo available. 391. VIN 2U69G152880, BODY 76B, COLOR M, TRIM 85, DATE 14E, DSO 36, AXLE 9, TRANS 5
Comments: This car has been garage kept since the early 70s. I would like to restore this vehicle to original condition. This car has everything except correct engine and wheels. I have the correct intake and manifolds that were on the car from the Factory. I would like to know how many 406 Tri-Power convertibles were made in '62. I would like to know if there is a certain casting number engine that would be correct for this car. If anyone can help me with any of this information it would be greatly appreciated. My email is JSKYCURS@NCTC.COM Thank you for your time. Submitted by STACY PERKINS, 09/25/2009.
Email: Jskycurs@nctc.com
Registry note: The number of G code, 406 cars with 3 deuces, is not known. Records were not kept, or are not available.

392. VIN 2D64Z126858, BODY 75A, COLOR M, TRIM 35, DATE 11A, DSO , AXLE 6, TRANS 1
Options: AM Radio
Comments: Car is a condition 4. Mechanically very sound but needs restoration. Is a documented one owner with the original title form January, 1962. Been in Texas all it's life. The car is a twenty footer. Over the next year or so, I will be doing a cosmetic restoration. I found 392 in the data base but not in the registry. Do you know the date of it being added to the registry? It shows Dallas. I got the car from Fort Worth and he got it from San Angelo, Texas, where it was originally purchased from Lee Jarmon Ford. Submitted by Roy Miller, 10/04/2009.
No photo available. 393. VIN 2J52W156765, BODY 54B, COLOR T, TRIM 24, DATE 09D, DSO , AXLE 8, TRANS 2
Comments: Submitted 10/08/2009.
394. VIN 2D62X155557, BODY 54A, COLOR BM, TRIM 17, DATE 22F, DSO 65, AXLE 1, TRANS 4
Comments: Nice Driver has been used several years in the Blythe, Georgia 4th July parade. Just purchased this vehicle from the second or third owner. Has 68,000 original miles.
Email: larryhongmay@Bellsouth.net
No photo available. 395. VIN 2J63X175435, BODY 65A, COLOR E, TRIM 32, DATE 18G, DSO blank, AXLE 1, TRANS 4
Comments: Purchased the car complete intact, minor ripple in passenger rear quarter panel 10/01/2009. Have started to tear down for restore...will post pics soon. Excited about all the information obtained from this website. Found build sheet stapled to backside of door panel. Also found all original DMV paperwork from original local owners in visor, may contact for more information and possible pics. Submitted by Bobby and Angela Gregory (Paradise, CA), 10/15/2009.
No photo available. 396. VIN 2P63W126491, BODY 65A, COLOR H, TRIM 12, DATE 24L, DSO blank, AXLE 1, TRANS 1
Comments: Found on Ebay for sale. Submitted 10/18/2009.
No photo available. 397. VIN 2J61X117160, BODY 62A, COLOR T, TRIM 14, DATE 07L, DSO blank, AXLE 1, TRANS 4
Comments: Submitted by Brian Pettersen, 10/25/2009.
Email: biscayne1963@yahoo.com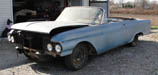 No photo available. 399. VIN 2J67Z167303, BODY 65B, COLOR V, TRIM 89, DATE 29E, DSO blank, AXLE 1, TRANS 4
Comments: I have imported the car from Henderson to the UK in September 09. I have some work to do to get the car through the UK M.O.T which is the department of transport test. Windshield washers are required. The car is solid with some minor rust on the roof gutter. Interior needs some work including dashpad, seat covers + foams, carpets and headliner. Car now located in Devon, United Kingdom. Submitted by Andy Williams, 11/08/2009.
Email: andyfw@hotmail.co.uk
400. VIN 2P61G169824, BODY 62A, COLOR J, TRIM 35, DATE 20D, DSO blank, AXLE 5, TRANS 5
Comments: This is a one family owned car. I was 10 years old when the Ford dealer called and said the Galaxie 500 that Dad had ordered was in.There was one mistake on arrival. The 406 was orderd with a 4 barrel but came with the 6pack.I hve owned the car since 1971. The documentation shows the Ford mistake on delivery and also have original window sticker. The motor and drive line is in exellant condition for 47 years old. The bottom end has 25000 miles on it and the top end is fresh. The car shines like it was new with a fresh paint 2 years ago. It has never been in a wreck. Submitted by Thomas Fredericks, 11/09/2009.
Email: ka9zgk@hotmail.com