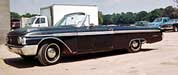 41. VIN 2G65W210395, BODY 76A, COLOR A, TRIM 35, DATE 10V, DSO 43, AXLE 1, TRANS 4
This Chicago-built, Raven Black Sunliner is a very late 62 model year car. Its scheduled build date is August 10, 1962. This car is owned by Drew Belian of Royal Oak Michigan. Submitted by Adrian Clements.
Update 4/10/05: This Sunliner is now owned by Tom Hopkins, the owner of registry entry number 5.

42. VIN 2E69X231855, BODY 76B, COLOR M, TRIM 86, DATE 05F, DSO 23, AXLE 1, TRANS 4
Options: Radio, Heater, 352 engine, Cruise-o-matic, Power Steering, Power Brakes, Deluxe wheel covers, Hood ornament.
Comments: A non-restored, original Galaxie 500 XL convertible, including the original top, paint and interior. I am the second owner (purchased from original owner in July 1993). The car has always been garaged. It has 57077 total miles, no rust and is in excellent condition except for minor transmission seal leak.
Sent by Bill Morrison.

43. VIN 2E15G229705, BODY 62B, COLOR A, TRIM 25, DATE 31E, DSO 23, AXLE 9, TRANS 5
Options: AM radio, heater.
Comments: Car has remained as stock as I can keep it. It is a 406/405 with 3x2 carbs, 4 spd trans, 4.71 rear spool. Has had body work done as needed. Seats were reupholstered in vinyl. Car has won 2nd place peoples choice award at Carlisle 2000 and celebrity pick Carlisle 2004. It has been pictured in two magazines. I race it 4-8 times a year. Best Time = 12.49 109.50 mph in 2004 at Cecil County, Md. I drive it to local car cruises and I go to local shows with it. Car is tuned and maintained by my son, David. This car was driven by Mr. Dick Brannon at Beaver Springs raceway in July, 2004. He autographed it on the sunvisor and the glove compartment. Sent by Jerry Campbell.
No photo available 44. VIN 2J72X163910, BODY 71B, COLOR D, TRIM 77, DATE 11E, DSO blank, AXLE 1, TRANS 4
Options: manual windows, manual door locks, A.C.
Comments: The car is in primer at the moment, having to do some minor body work. Submitted by Christopher G. Bozarth, 11/20/2004.
45. VIN 701185, BODY 71D, COLOR 2WR, TRIM 87, DATE ?, DSO ?, AXLE ?, TRANS ?
Options: My serial plate look's different then the sample that you have shown probably because my car is a Canadian car.
Comments: I saved this car from the jaws of the crusher. It was a 223 6cyl with 3 speed manual. It now runs a 302 with automatic trans. I have installed underdash air, power steering, mag wheels, 2 overhead monitors a dvd system and a X box. We now use it to pull our vintage camper. I plan to redo the body some time next year. It is a great and fun car to drive. Sent by Dennis Bulbeck of Neidpath, Saskatchewan Canada, 11/22/2004.
Registry note: Dennis, thanks for the great photo. Keep the Registry updated as you progress on this great "rig." And thanks for saving it.
No photo available 46. VIN 2W65X114407, BODY 76A, COLOR V, TRIM 39, DATE 20M, DSO blank, AXLE 1, TRANS 4
Options: Factory Air.
Comments: Texas Car. Frame off restoration 4 years ago 26,312 since restoration, Solid # 2 car. Submitted by Steve Utting, 11/25/2004.
No photo available 47. VIN 2U63G157606, BODY 65A, COLOR A, TRIM 35, DATE 05F, DSO 36, AXLE 5, TRANS 2
Options: 406 6V engine.
Comments: This car is black with red interior. It was originally a 3 speed o/d car but switched over years ago to a 4 speed. Actually I think in 1963 it was switched over. It's a 63 top loader and the guy I bought it from said he was told it was a dealer switch over years ago. The car is in very nice original shape (even has the t-shifter handle)- always draws attention at shows. Sent by K. Jess Searles, 11/07/2004.



48. VIN 2E69X250679, BODY 76B, COLOR J, TRIM 86, DATE 24G, DSO 23, AXLE 1, TRANS 4
Comments: While attending a Galaxie Gathering of the Motor City Galaxie Club on Sunday, October 17th, I met club member Jim Gibbs of Woodhaven Michigan and his beautiful 1962 Ford Galaxie 500/XL Sunliner. Submitted by Adrian Clements 10/22/04.
Registry note: With a scheduled build date of July 24, there weren't many '62s built in Mahwah after this one.

49. VIN 2G65X102796, BODY 76A, COLOR M, TRIM 35, DATE 01J, DSO blank, AXLE 1, TRANS 4
Options: power steering, power brakes
Comments: Recently "rescued" after sitting in the elements of the California desert since 1980 -- full restoration needed -- CA Black Plate Car. Submitted by Bill Fuller, 12/13/2004.
Update 2/23/05 This car is an original California car, and it still has an original 'black license plate' which was available from 1963 to 1968. That's sort of a 'sought after' thing amongst various car folks in CA. The car still needs a restoration. The photo is how it looked when I had it delivered to my house.

50. VIN 2N74Z127085, BODY 71C, COLOR A, TRIM 85, DATE ?, DSO blank, AXLE 1, TRANS 4
Comments: This Norfolk built 9 passenger Country Sedan is pictured in the Member's Gallery on the American Station Wagon Owners Association website. Submitted by Don Graham, 12/21/2004.
No photo available 51. VIN 2D69Z145021, BODY 76B, COLOR M, TRIM 85, DATE 30D, DSO 61, AXLE 1, TRANS 4
Options: Has factory air.
Comments: I have the Calif. tag, last registered 1969, with chrome license frame from Dunton Ford, Santa Ana, CA. Submitted by Don Graham, 12/21/2004.
No photo available 52. VIN 2E67X236994, BODY 63B, COLOR A, TRIM 85, DATE 15F, DSO 13, AXLE 1, TRANS 4
Comments: Submitted by Don Graham, 12/21/2004.


53. VIN 2P62W192347, BODY 54A, COLOR X, TRIM 14, DATE 19G, DSO blank, AXLE 6, TRANS 1
Options: Power steering, seat belts.
Comments: I am the third owner of this gem, having bought it about two years ago. The original owner bought it new at the Ford dealer here in Aberdeen, SD in 1962. Her husband was severely disabled from WW I injuries and they did not travel much, mostly just shopping, church and doctor visits. It began to have some mechanical problems from not be used, so she stopped driving it all together. The car eventually ended up in the hands of a cousin of the original owner, but he was unable to drive it and simply stored it in a spare garage behind his house here in Aberdeen, SD. When I found it two years ago, it had been in that garage for the last 15 yrs. The "garage shot" is how it looked when I first found the car. It took some work on the fuel system to get it running, but it now runs very well and I use it whenever possible, weather permitting. The car had 23,145 actual miles on it when I got it. I have since put on about 900 miles. The car has a small dent in the qtr in front of each tail light, I think she had problems backing out of her garage. There are also a few rock chips in the paint, otherwise all original. The Galaxie has a 292 with 3-speed manual trans. The Galaxie was purchased originally by a couple with the name of Frank and Gladys Thornton. The Thorntons purchased the Galaxie on July 30, 1962 from the Ford dealer here in Aberdeen, SD. The Ford dealer's name at the time was Spaulding Auto Co. The dealer changed names some years ago to Pierson Ford. The Galaxie was special ordered by Gladys Thornton, thus the 292 rather than the FE or 6 cyl. The July sale date was certainly late in the model year for that time. Submitted By David J. Fransen, 01/06/2005.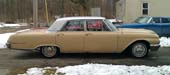 54. VIN 2P62X113700, BODY 54A, COLOR TM, TRIM 14, DATE 07K, DSO blank, AXLE 1, TRANS 4
Options: PS, PB, Saftey package, jack, radio, clock, back up lights, wheel covers.
Comments: Just bought this car with about 85,000 original miles. It's in need of restoration though mechanically it's pretty good for a car this age. The interior is about as good as I could expect except for the front seat. The car is very complete and the body is straight and mostly rust free and seriously sun faded. Should be a fun learning process. Submitted by Brent Jaimes of St. Louis, 01/13/2005.
The following information was added on 07/13/2006: Bought in original condition after having been stored for 15 yrs. Replaced hoses, fuel, brake lines, rebuilt carb and cleaned and went over top 1/2 of engine, replacing original parts as needed. Replaced interior with bench buckets from a 73 LTD. Still needing minor body work and paint. My intent is to have a mostly original, but more comfortable and modernized cruiser.

Update April 10, 2011 - Survivor car. Purchased from last owner and the car drove 60 miles home at 65 mph. No rust on this car, but needs a re-paint. Numbers matching. Email me if you have any parts for sale. I am interested in several odds and ends. Submitted by Bryan, 04/10/2011.
Email: treadmarked81@yahoo.com

Update December 27, 2011 - Purchased from previous owner, have driven daily (already logged 1500 miles) since bought a few weeks ago with no problems. Will have to repair body damage from past accident, replace missing headliner, and a few other items, but is an excellent "old gal". I am looking for original seats front and rear to replace the late model that was installed, please let me know if any leads. Submitted by Russ Bland, 12/27/2011.
Email: russb@mchsi.com





55. VIN 2N63Z116641, BODY 65A, COLOR H, TRIM 32, DATE 09M, DSO blank, AXLE 1, TRANS 4
Options: Power steering.
Comments: In the process of doing some performance updates. Submitted by Dave DeLauder, 01/31/2005.
Update December 2008: The vehicle now has a T-10 4 speed tranny, has coated headers by Crite. 4:56 rear gear with spool, New carpeting, scuff plates and Traction Master traction bars. Hope to modify the engine this winter possibly a 390/401.
56. VIN 2P63Z148138, BODY 65A, COLOR MD, TRIM 17, DATE 31A, DSO blank, AXLE 1, TRANS 4
Options: 390, auto, A/C
Comments: Car is complete, awaiting restoration. Submitted by J. Lance, 03/11/2005.



57. VIN 2J69X155540, BODY 76B, COLOR M, TRIM 88, DATE 03D, DSO blank, AXLE 1, TRANS 4
Options: Galaxie 500/XL, convertible, 352 4V, ps, pb, Cruise-O-Matic, dealer accessories include full wheel covers, front and rear bumper guards, accessory hood ornamment, fender skirts, built in Los Angeles, CA.
Comments: Restored as close to factory as possible, using all its original components from the car, some interior seats, dash pad & trim still in excellent shape and were just cleaned up and reused as part of the restoration. Owned by Kevin & Tammi Kalin, Saskatchewan, Canada. Submitted by Kevin Kalin, 03/19/2005.
Registry Note: Notice the very rare optional hood ornament.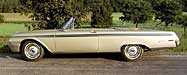 58. VIN 2G69X171469, BODY 76B, COLOR I, TRIM 88, DATE 09D, DSO 53, AXLE 1, TRANS 4
Options: 500 XL Sunliner, Castilian Gold, White Convertible Top, Original Radio.
Comments: The Galaxie was purchased over the internet in 2004. I bought and shipped it to Germany without any local inspection. Because this was an exciting project I would like to thank some people at this point: To the original owner of the beautiful car who put it in the internet auction for keeping it in great condition and helping me to contact the dealer who was a little bit faster than me bidding for the car. To the dealer for selling the car to me and walking with me through all the up and downs. For both of us it was a new experience. To my colleague in Detroit for helping me. To the owner of a perfect 1965 Corvette Convertible for the knowledge and all the time he spend in the project. To the owner of a beautiful 1965 Ford Mustang Convertible for keeping me alive during the ''down phases'' and helping me with his technical knowledge. To the owner of the Galaxie in Cologne (see Registry entry # 9), who helped me to get the car registered here in Germany. It saved me a lot of grey hairs. You all helped me to make this dream come true! Thanks! Now the 1962 Ford Galaxie 500/XL Sunliner found a new home in Germany near Duesseldorf and I enjoy every minute with the car. Last but not least: Thanks to Paul Hobbs for running such a useful and interesting website. Ludwig (see Registry entry #4) has mentioned your website to me and after walking through I have to say: Great!
Next week there is an oldtimer fair (we call a fair presenting old cars oldtimer fair) here in Essen. Essen is the town where I work. So I will have a day off, and then have a nice day watching all the old cars on the fair. I also use the day off to register the Galaxie again (to save money here in Germany it is normal to cancel the registration and garage the car over the winter time). Spring is coming! :-)
Best Regards from the other side of the ocean, Dirk :-) Submitted By Dirk Steffen, 03/31/2005.
Registry Note: Dirk, congratulations on your "new" 62 Galaxie. It's a beauty. Thanks for participating in the Registry from so far away and thank you for the kind words. I can't accept your thanks without including Dave Coleman in Indianapolis for his help and for hosting the Registry. Paul
No photo available 59. VIN 2P63W195238, BODY 65A, COLOR M, TRIM 35, DATE 25G, DSO 1904, AXLE 1, TRANS 3
Options: 3Difficult to determine original options.
Comments: This is a very late in the model year '62, 2 door hardtop. I saw this car along I 70 in Sweet Springs, Missouri, about half way between Kansas City and Columbia. It is for sale at Charlie Lance Auto Investments, phone 660 335 Call. It has a 460 Lincoln engine. The hood has been louvered. The rear bumper is rusted through on the right corner. Other than the body, bumpers and glass there is not much original left on the car. Originally Corinthian White, it has been black and is now metalflake blue (very poor paint job). Mr. Lance is asking $6400 which is about $5400 too high for this one. The poor thing has been treated badly over the years. I will take photo on next trip to KC. Paul 04/14/2005.
60. VIN 2D52W102637, BODY 54B, COLOR PM, TRIM 23, DATE 08J, DSO blank, AXLE 1, TRANS 3
Options: Options unknown but some are hopefully still fullfiling their intended function in still-running Galaxies.
Comments: Located at Memory Lane in Sun Valley (Los Angeles, California). www.oldautoparts.com Submitted by John Rotella, Director of Lovefords (see the Linkage page) and the Thuderbird Registrar, 04/20/2005.