No photo available. 141. VIN 2G61G194815, BODY 62A, COLOR A, TRIM 16, DATE 14F, DSO 41, AXLE 9, TRANS 5
Comments: found vehicle in back of house, would like know production number of this particular vehicle. if anybody can share info would greatly oblige. Submitted by Steven Dyling, 04/11/2006.
Email: nismo1975@hotmail.com
No photo available. 142. VIN 2W63Z134843, BODY 65A, COLOR M, TRIM 35, DATE 04E, DSO 32, AXLE 5, TRANS 1
Comments: RUNNING CAR BEING RESTORED. LOOKING FOR EXTERIOR TRIM. Submitted by Tovar, 04/16/2006.
Email: g_tovar_7_77@yahoo.com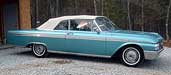 143. VIN 2U65X135765, BODY 76A, COLOR D, TRIM 37, DATE 07C, DSO 22, AXLE 1, TRANS 4
Options: POWER STEERING,POWER TOP
Comments: Vehicle is in excelent condition having only 78197 original documented miles. Car has had one repaint in early 70s & new top last year. Everything else is original. Submitted by Larry Waldon, 04/18/2006.
Email: ldwaldon@msn.com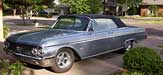 144. VIN 2E65M158147, BODY 76A, COLOR Q, TRIM 56, DATE 10A, DSO , AXLE 5, TRANS 5
Comments: 58,000 original miles, excellent original interior, new top, new paint, rest of car is original. Submitted by James Rice, 04/20/2006.
Email: rice5878@sbcglobal.net

145. VIN 2E65X209236, BODY 76A, COLOR M, TRIM 56, DATE 24D, DSO 23, AXLE 1, TRANS 4
Comments: Overall in good condition. Drivetrain has been done, suspension and exhaust is new, body needs to be redone, dash is rusty, seats have been redone. I bought the car 8 months ago now ready to get started on it. Submitted by Joe Metzenroth, 04/22/2006.
Email: galaxie500joe@hotmail.com



146. VIN 2J64X163804, BODY 75A, COLOR H, TRIM 17, DATE 11E, DSO , AXLE 1, TRANS 4
Options: A/C, POWER WINDOWS
Comments: This vehicle was originally sold in oregon and was a showroom car. A period of its history is unknown but it was purchased by the Ford Mechanic who worked on it at the dealership and sat for a while. It was rebuilt with original parts and sold to a friend. I acquired it from this friend in Utah in 2002. The engine runs good. The tranny moves the vehicle but is in bad need of rapair. The body and paint need reworking as the paint is original and the bondo is caracking. The headliner needs repair and the interior redone. It is in good shape, just not great. I love this car and enjoy working on it when I can. It will be a while until it is done but it is a fun vehicle to work on and use. Submitted by Sean Dick, 04/26/2006.
Update 10/10/09: This car is now owned by Jon Soseman. Jon says: "My father and I always talked about fixing a car up together and we never got the chance to. I look forward to creating some memories with my son while we work on this one together. I am going to paint it Ming-Green and restore as much of it as I can back to stock condition. It has a 352 with a Cruise'O'matic transmission. I will send some new pictures as soon as I can."


147. VIN 2P67X172443, BODY 65B, COLOR M, TRIM 89, DATE 30D, DSO , AXLE 1, TRANS 4
Comments: This car was picked off of ebay on 4/26/06. Photos and description used with permission of seller.

I first laid eyes on this car in the garage of a daughter of a farmer in Cheyenne, Wyoming. The daughter was getting married and needed money for the wedding. The father, a farmer from Torrington, Wyoming, reluctantly sold us the car. He had this car for years and kept it in his garage. He took it out for parades. It was his pride and joy, as it is mine. He had purchased it from a man who bought in in Nebraska, where it is originally from. I am the third Owner.

It was love at first sight. I bought the car and have been caring for it for the past few years. My husband and I have been using it as a daily driver. We moved back to California and drove the car out here. We didn''t have one single problem. It drove like a champ and has a lot of power! My husband is a full-time artist, and in turn, must make distant trips to Los Angeles and beyond. It is this reason that we have decided it is time to sell the Galaxie. We need a newer car with a lot of space. But don''t get me wrong, the galaxie can hold five bodies in the trunk alone.
Registry Note. This is an excellent example of Trim Code 89, Chestnut.

Submitted by Paul, 04/26/2006
No photo available. 148. VIN 2J63X143528, BODY 65A, COLOR DM, TRIM 17, DATE 08B, DSO , AXLE 1, TRANS 4
Options: Tinted Glass,Safety Package, Padded Dash, Back up Lights, Front Seat Belts, ETC. Radio & Heater
Comments: Very good driver, Third owner, Spent most of it''s life in Oregon, no rust, well cared for all its life, 150,000 mi. original. Submitted by John Johnston Spokane WA., 05/14/2006.
No photo available. 149. VIN 2J63G167431, BODY 65A, COLOR H, TRIM 32, DATE 29E, DSO , AXLE 9, TRANS 5
Options: AM Radio
Comments: I am the original owner of this Galaxie. I ordered it early in 1962 and waited, and waited. I took delivery in June of 1962. I raced it in S/S in 1962 and later in A/S as the 427''s and 426''s took over S/S. My wife and I went on our honeymoon in this Galaxie in February of 1963. My wife, our Galaxie, and I are still together. The car is undergoing restoration. Submitted by Fred C. Howard, 05/14/2006.
Email: galaxie.500@prodigy.net


150. VIN 2J72W130781, BODY 71B, COLOR E, TRIM 72, DATE 16M, DSO blank, AXLE 8, TRANS 3
Options: RADIO, ELECTRIC REAR WINDOW
Comments: I have just imported this vehicle to Wellington, New Zealand. It is in tidy condition with genuinie 75,000 miles. This vehicle has been sitting idle for some time and has a major rear main oil leak also low oil pressure. It has a small amount of rust in spare wheel well but that's all. The condition is tidy. The hand book has original owners name of Mr. W. M. Henery Bricker of Creswell, Oregon and a delivery date of January 31, 1961 even though this is a 62 model. The vehicle was registeredwith Floyd Githeis Inc. 836 Maw Street, Cottage Grove, Oregon. Any aditional information would be a great help. Submitted by Steve Reid, 05/15/2006.
Email: WELLINGTON@CHASE.CO.NZ
Registry note: It is great to see a car like this being cared for in far away New Zealand. The delivery date of January 31, 1961 for this Country Sedan is surely a new year clarical error. This car has a 16M, December 16, 1961 build date so it could not have been delivered in Jan. of '61. Production of 1962 Fords did not begin until August of '61. This is a unique error in the handbook. It is very rare that the original owner's manual is still with a car that is 40 plus years old. Not only is the delivery date entered incorrectly in the manual, but the VIN was also entered incorrectly. This adds some very interesting provenance to the car.
No photo available. 151. VIN 2G51W175291, BODY 62B, COLOR J, TRIM 25, DATE 19D, DSO 32, AXLE 6, TRANS 1
Options: AM RADIO
Comments: GOOD DRIVER/VERY GOOD CONDITION/NEW PAINT IN 2005/75481 MILES /IT IS A COOL OLD RIDE I HAD IT REPAINTED PERFORMANCE RED AND HAVE THE VINTAGE CHROME SMOOTHIE WHEELS AND MICKEY THOMPSON BIAS PLY TIRES ON IT. AND WHEN I DRIVE IT I STILL LOOK THRU THE WINDSHIELD WITH 17 YEAR OLD EYES AND CANT SEE MY GREY BEARD IN THE REAR VIEW MIRROR. Submitted by ROCK THOMAS, 05/15/2006.
Email: rthomas@galion-godwin.com
No photo available. 152. VIN 2U62X125337, BODY 54A, COLOR T, TRIM 14, DATE 27M, DSO , AXLE 1, TRANS 4
Comments: Currently restoring this vehicle, very early stages, removing surface rust. Car has been sitting up since 1995 when I found it. Other than that and need for a little interior work car is fine. Still runs good. Submitted by James Hastings, 05/22/2006.
Email: james4steelers@yahoo.com
No photo available. 153. VIN 2U63Z121438, BODY 65A, COLOR A, TRIM 35, DATE 12M, DSO , AXLE 5, TRANS 1
Options: Fender skirts, AM pushbutton radio.
Comments: Submitted by Tyler Lezotte, 05/23/2006.

154. VIN 2J63X168289, BODY 65A, COLOR JM, TRIM 35, DATE 01F, DSO , AXLE 1, TRANS 4
Comments: The vehicle is 95% restored. It needs a few minor repairs and a new paint. The car has white top and red bottom. The interior is Red Crush all vinyl. Submitted by Jerry Young - Morgan Hill, Ca, 05/25/2006.
Email: jerlyoung@aol.com
155. VIN 2U67G158757, BODY 65B, COLOR J, TRIM 85, DATE 13F, DSO 22, AXLE 5, TRANS 5
Comments: The Galaxie has had a frame off restoration, all numbers matching very good looking car. Submitted by Garland Rainey, 06/02/2006.
No photo available. 156. VIN 2P62X141636, BODY 54A, COLOR ZM, TRIM 14, DATE 10A, DSO blank , AXLE 1, TRANS 4
Comments: Paint job has no clearcoat any more. Waiting for me to get to the shop to get it painted. Just picked up this car this week and it is in great shape for the year. It has 61,500 original miles on it. Am looking forward to getting it restored back to it's original beauty. Submitted by Jeff Beikmann, 06/09/2006.
Email: jeffbeikmann@yahoo.com
No photo available. 157. VIN 2J65X133436, BODY 76A, COLOR F, TRIM 32, DATE 03A, DSO blank, AXLE 1, TRANS 4
Options: To be added later.
Comments: To be added later. Submitted 06/18/2006.
No photo available. 158. VIN 2G69X159696, BODY 76B, COLOR M, TRIM 84, DATE 08C, DSO 54, AXLE A, TRANS 4
Comments: Currently awaiting rrestoration, can't find seats, the springs are too rusty. Found this car in an abandoned farm yard, had been there approximately 10 years. All pieces are fair condition only one chrome name "GALAXIE" was broken........engine?????? Submitted by MICHAEL L. GUNTHER, 06/25/2006.
Email: spitfire56@gpcom.net


159. VIN 2P63G167366, BODY 65A, COLOR J, TRIM 45, DATE 25D, DSO blank, AXLE 9, TRANS 2
Options: 3 speed trans with overdrive and 4.11 gears.
Comments: Here is an edited email exchange between Bob Kessel, the owner of this great and rare car, and John Rotella, Director@lovefords.org.

Date: Thursday July 06, 2006

John,
The car has the Tri Carb 406 engine Three speed with over drive on the dash. Rear Fenders have the Galaxie 500 emblem. The front Fenders have the eagle with 406 and two flags. The shifter is on the collumn. Extra nice fancy interior and chrome on both side front to back. IS this a 61 or early 62? where was it made. I would love to have as much info as you can give me. THANKS

Bobby
Restorable shape for sure. Are they rare? Worth The cost of restoring? I do like the car alot. Thanks.


Bob,
This sounds like a great car. The 406 V-8 is uncommon enough, but this car has the added unusual item of Overdrive. The number of 65A body styles made like this is unbelievably small, probably in the low double digits. When you factor in the body style, color, trim, you will get a number that likely makes this car "1 of 2" or maybe even "1 of 1".
Just the written word description of this car is awesome, it is like something right out of the 1962 Ford sales brochure. The top-of-the-line power combined with the Galaxie 500''s high-line trim and style makes this a special car. Special in 1962 and even more so in 2006.
1962 Fords started production in late August of 1961 and ran through late July of 1962 so this car was produced late in the third quarter of that production. The chrome front-to-back on the sides is a signature 1962 Galaxie 500 (and Country Sedan) feature and was not available on any other year.
Look for the factory build sheet - it may be under/behind a back seat, under a carpet, or even stuck up under the dash.
Is it restorable, you ask. Only one person can answer that question with any credibility. His name is Bob Kessel. And he already said that he likes this car a lot. And LOVEfords Central (a.k.a. "me") gives it a resounding YES vote, sight unseen.
Please send me some pictures.

Best Regards, John Rotella - Director of LOVEfords and Thunderbird Registrar Visit the LOVEfords Forums and Thunderbird Registry Forums

Submitted by Galaxiedriver@centurytel.net, 07/07/2006.



160. VIN 2G65X135534, BODY 76A, COLOR E, TRIM 32, DATE 15M, DSO , AXLE 1, TRANS 4
Comments: Currently being restored by father and son in Minnesota. My dad bought the car used in mid 70''s with the transmission out. It sat in his barn/shed until 2004 when we stripped it down and started a complete restoration. The exterior is complete and we are now working on slowly restoring the interior. Submitted by Jake Niesen, 07/08/2006.
Email: jakewolves@hotmail.com