121. VIN 2G67X204219, BODY 65B, COLOR A, TRIM 85, DATE 20G, DSO 34, AXLE 1, TRANS 4
Options: 390 emblems installed by the dealer per my Grandfather's request.
Comments: This car was purchased new by my grandfather on July 23, 1962. That's him in the picture when the car was new. He always called it the "Black Job" and was very proud of it. I was 4 years old at the time and don't remember much about the details of the purchase, but over time I was told about it from family members. My grandfather worked as a salesman and always had a company car. It was always a Ford. When he retired, the company he worked for gave him the current car he was driving at the time as a retirement gift. It had quite a few miles on it and soon needed replaced. He went with my uncle to look for a car to trade it in on, and fell in love with the 62 XL in the showroom of Smart and Perry Ford. He wanted that color combination, black exterior with a red interior. He also wanted a 390 CI engine but this car had a 352. He made a deal to buy the car as long as the dealer would put 390 flags on the front fenders. When I was old enough to appreciate cars, I always told him that when he was ready to sell the car, I wanted to buy it. Although I didn't have any money at the time, I told him to name his price, because I knew that as badly as I wanted that car, I would find a way to get the money. He told me that since the car was so old, it wouldn't last long being driven by a teenager like me. He was probably right. He died about 15 years after he purchased the car and it sat in my aunt and uncle's back yard for about 10 more years. I took possession at that time and over the next few years I brought the car back to life by rebuilding just about all the mechanical parts, fixing up the interior, and repainting the body. I drove the car about 4000 miles over the next 13 or 14 years. I was never really happy with the work I did on it originally, so early in 2003 I decided to start a total frame off restoration. About a year and a half into it, my wife and I decided to move. Our new home needed a lot of work, so for the next year and a half the car just sat. The frame was at my new house and the body was at my mother's house. The rest of the parts were at both houses. In the early part of 2006 I started working on the car again. I have purchased 3 parts cars over the past few years to help with the restoration. They are in the registry as numbers 116, 122, and 123. You can click here to see the progress on the car. Submitted by Dave Coleman, 02/20/2006.
Email: dave@62ford.com
Registry Update: The restoration is complete as of mid 2016.

122. VIN 2W65X140524, BODY 65A, COLOR D, TRIM 17I, DATE 15F, DSO 32, AXLE 1, TRANS 4
Comments: This is a parts car that I bought to aid in the restoration of my other car (see registry #121). One of the previous owners started a restoration about 10 years ago. He took it apart and painted it, but never put it back together for reasons unknown to me. It sat in a field for the next 10 years. When I got it (late 2005) the frame was rusted through in several places. There isn't much left of the body and frame, but it had some NOS parts in the trunk and the glass and trim is in good shape. The bumpers were rechromed and never reinstalled. They have been exposed to the elements, but they are really in pretty good shape still. Submitted by Dave Coleman, 02/20/2006.
Email: dave@62ford.com

123. VIN 2W52X141810, BODY 54B, COLOR M, TRIM 27A, DATE 26E, DSO 33, AXLE 1, TRANS 4
Options: Air Conditioning, electric seat.
Comments: This is another parts car to help with my restoration (see registry #121). I plan to use the air conditioning parts and some other misc parts as needed. When I am finished, I might try to make a Mayberry police car out of this one. Submitted by Dave Coleman, 02/20/2006.
Email: dave@62ford.com
124. VIN 2P63G123456, BODY 65A, COLOR H, TRIM 32, DATE 06F, DSO blank, AXLE 5, TRANS 5
Options: Galaxie 500 6V.
Comments: The car has not been on the road since the late 60s and the odometer shows 77000 straight across. Talking to the second owner I learned the original engine and tranny along with all the other good stuff has been gone for years. The title #'s match the frame #s and the DATA plate that is on the car. The car is an original 406 tri-power, 4 speed with 3.50 rear end gear. The frame also is very solid! The original big brake drums and three of the original special KH wheels are still there. The bumpers, hood, trunk lid, tail lights, trim between tail lights, some of the side trim, and drivers door are missing from car. Great car, If I could get her and her sister parts car home I would bid on it. But then that would be 5 62 galaxies, three of them would be H, Oxford Blue in color. One red and the current project is Black 406. Submitted by Jim Holmes, 02/22/2006.
Email: Galaxiebuilder@aol.com
Registry note: "The VIN will be corrected when data is obtained."
No photo available. 125. VIN 2U62W162327, BODY 54A, COLOR M, TRIM 19, DATE 25F, DSO 31, AXLE 1, TRANS 4
Comments: Good Condition 88K Miles Garage kept Since new. Cost $2,000. Submitted by John Ashley, 02/26/2006.
Email:Annette185@Yahoo.com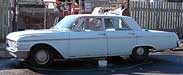 126. VIN 2G52V101460, BODY 54B, COLOR F, TRIM 22, DATE 28H, DSO blank, AXLE 6, TRANS 1
Comments: I just picked up my Galaxie. It was last tagged in 1996 and has just over 39300 miles. It needs paint and interior redone and I think it will make a good driver when done. Submitted by Brent M Clark, 02/26/2006.
Email: brent64505@stjoelive.com
No photo available. 127. VIN 2P63Z192386, BODY 65A, COLOR M, TRIM 17, DATE19G, DSO blank, AXLE 1, TRANS 4
Comments: All original condition. Recent rebuild on engine and trans. Submitted by John Circelli, 03/04/2006.
128. VIN 2J62W149299, BODY 54A, COLOR T, TRIM 14, DATE05C, DSO 716927, AXLE 1, TRANS 4
Comments: Car in good condition. Seats need major work, and there is some minor things that need to be done, but the body has no rust at all, and because of that is a great car to restore. Everything is still original, and the mileage is only around 77,000 miles. Runs great, and I run it almost every day. Submitted by Dale Martin 03/07/2006.
Email: dalehmartin@yahoo.com
No photo available. 129. VIN 2J63Z141123, BODY 65A, COLOR M, TRIM 39, DATE 31A, DSO 718405, AXLE 1, TRANS 4
Options: The car has select air, PS, and PB.
Comments: I rebuilt the car to drive when I was 16 and enjoyed it throughout high school. I plan to restore it again using the build sheet as a guide, which I have. There is a difference between the build sheet and what the car has. The build sheet and plate show a trim code of 39 which is not correct. The car has a dark red and rose color interior. It appears that the car was special ordered, so I am wondering if that is what was changed. If anyone can decode the DSO code, I would greatly appreciate it. BTW, I know the interior is the original color as all of the painted parts were red all the way to the metal and the seats had the original material on them. Submitted by Paul Matheney, 03/11/2006.
Registry note: Paul, John Rotella at director@lovefords.org is an expert in Ford DSO numbers. I suggest contacting him. Tell him I sent you.
Update from Paul: I have begun doing a lot of research on the car via the door tag and the build sheet. In my submission about the car to the website, I mentioned that the trim code did not seem to match up, it is 39. But in looking through all of the pictures, I see other cars with that trim code that do match what I have.
Update 03/17/2006: I have reviewed the build sheet for the 1962 Ford Galaxie 500 Club Victoria with the following VIN and production codes:
VIN 2J63Z141123, BODY 65A, COLOR M, TRIM 39, DATE 31A, DSO 718405, AXLE 1, TRANS 4
The number "8405" in the DSO/FSO/PAO (Domestic Special Order/Foreign Special Order/Pre-Approved Option) box at the top right corner of the build sheet confirms that this car was a special order unit, and I believe that's because it was built with tires that were not a Regular Production Option (RPO) on the 1962 Ford full-size cars.

Clearly printed across the bottom of the build sheet is the following verbiage:
"800-14-4 WSW NYLON", with "NYOO" X'd out between "WSW" and "NYLON". This tells us that this car was factory built with 8.00x14 4-ply white sidewall Nylon tires. According to the "1962 Ford Car Facts" binder, 7.50x14 was the only standard and optional (different number of plies and white sidewalls) tire size available on the 1962 Galaxie, Galaxie 500 and Galaxie 500/XL models (Section D Page 2, Section E Page 2 and Section E Page 4). Also according to the "1962 Ford Car Facts" binder, 8.00x14 was the only standard and optional (different number of plies and white sidewalls) tire size available on the Ranch Wagon, Country Sedan and Country Squire models (Section F Page 2 and Section F Page 4). Please note that both the 7.50x14 tires and the 8.00x14 tires installed on the 1962 Ford full-size cars were of Rayon construction, and not Nylon. The only 1962 Ford car line at all that was available with 8.00x14 4-ply rated white sidewall Nylon tires was the 1962 Thunderbird, and they were optional at extra cost on that vehicle, 2 option levels above the standard 8.00x14 4-ply rated black sidewall Rayon tires (Section G, Page 2).
So, for whatever reason, the original owner of this car ordered it (and we know that it was a retail sale ordered by an individual, and not a unit built for dealer stock, by the "1" in the "TYPE ORDER" box on the build sheet) with 8.00x14 4-ply Nylon tires.
Check with a company that specializes in new tires for old cars like Coker Tire ( www.coker.com) or Lucas Classic Tires (www.lucasclassictires.com) to determine if they sell an actual 8.00x14 white sidewall tire. Failing that, the 8.00x14 tire size is roughly equivalent to the modern P215/75R-14 and P225/70R-14, which you can source from a local tire vendor.

Yours in old Ford iron,
Adrian
130. VIN 2G63G177047, BODY 65A, COLOR V, TRIM 39, DATE 25D, DSO 34, AXLE 5, TRANS 5
Comments: While visiting the shop of John Vermeersch of Total Performance in Clinton Township, Michigan on Tuesday, March 14, 2006, I spied a dilapidated 1962 Ford lurking in the back lot that I documented for inclusion in the 1962 Ford Galaxie Registry. It turns out that this 1962 Ford Galaxie 500 Club Victoria is quite an interesting car. All of the useful 406 parts were removed from this car by John, and it has been sitting out back rotting away for about 5 years. Submitted by Adrian Clements March 15, 2006.



131. VIN 2J61M134917, BODY 62A, COLOR 358, TRIM 56, DATE 09A, DSO 718073, AXLE 9, TRANS 5
Comments: I am restoring this car, it currently has 19418 original miles on the car. I am the 4th owner of this car, no one except the original owner and myself have really done anything with the car. Originally it was raced at Pomona and the original engine blew up. When I got the car it had a later model 390 in it with a C6 trans. I found a complete 1962 390 and rebuilt it and found the necessary factory headers, intake, distributor and so on. I have the original build sheet for the car, it was in the rear seat springs. I also have the original California black license plates that came with the car. The car has tow bar brackets welded to the front cross member, installed by the original owner, also has Traction Master traction bars installed by the first owner. I raced it once last year at the local drag strip and turned a 15:01 at 94 MPH, not bad for the first time down the strip in forty some years.
On both the build sheet and the door plate, the color code has been crossed out, then on the bottom of the build sheet it has PAINT M-J30 PAINT M-30J-358 YELLOW
The car was obviously painted yellow at the factory, everything is yellow, inside the trunk, door jams inside doors, etc. Submitted by Greg Seger, 03/16/2006.
Email: gvseger@mind.net
Registry note: The DSO on this car indicates that it had something ordered that was not normally available on the production line. In this case, at least one item was the paint. M-30J-358 is a Ford color called Goldenrod Yellow. The 1962 Ford paint chart indicates that Goldenrod Yellow was a 1962 Ford Truck color but it was also used in prior production years, most notably on the 1955 Thunderbird. This special order paint may make this M code Galaxie a one of a kind automobile.
No photo available. 132. VIN 2D62W137169, BODY 54A, COLOR M, TRIM 17, DATE 16C, DSO blank, AXLE 6, TRANS 1
Comments: Submitted by Emilio Perez, 03/21/2006.
No photo available. 133. VIN 2J69X177445, BODY 76B, COLOR F, TRIM 32, DATE 27G, DSO blank, AXLE 1, TRANS 4
Options: Padded dash
Comments: Vehicle is in excellent condition with only minor paint flaws. Great chrome bumpers and bright stainless. Good upholstery and carpets. New top and good back window. Engine and trany seem to be solid. Submitted by Charles Talman, 03/21/2006.
Email: ckclassics@charter.net

134. VIN 2D63Z123062, BODY 65A, COLOR A, TRIM 35A, DATE 22M, DSO blank, AXLE 6, TRANS 2
Options: Selectaire, Tinted glass, no power brakes, no power steering, from factory.
Comments: Very clean, straight, rust free Southern car. Professional restoration 80% complete useing NOS, near perfect, or Resto. parts. Has been converted to a toploader 4-speed W/new Hurst Shifter. Tri-Power, headers, heads milled .060 (10.6 compression), solids W/63' Fact. 427 cam. Origional Traction Masters. Heater, radio, clock, and air have been deleated with Factory deleat plates. Fiberglass tear-drop hood, and 15 inch Rader wheels have been added. Everything is time period correct. Submitted by Scott W. Pearson Sr. March 24, 2006.
Email: lasalle472@netzero.net

135. VIN 2E63Z134913, BODY 65A, COLOR F, TRIM 32, DATE ?, DSO blank, AXLE ?, TRANS 2
Comments: Paul, I read your Member Profile in the Galaxie Gazette and not only enjoyed the article but was glad to find out about the www.62ford.com/registry. I have been a lover of 62' Fords since I was a teenager, ( I was born in 1951). My first car was a 62' Ford two door hardtop with a 390, and a three speed w/overdrive, I bought it in 1968 it was the car I had all through high school and was even mentioned under my yearbook picture along with my high school sweetheart. The fun I had with that car, Hurst Shifter, Traction Masters, Tri - Power was added along the way, it was my life. I was drafted right after high school and the car was sold to a younger guy at school. In 1971 the car was destroyed and went to the junkyard. Submitted by Scott W. Pearson Sr. March 24, 2006.
Email: lasalle472@netzero.net
No photo available. 136. VIN 2N63G136816, BODY 65A, COLOR A, TRIM 35, DATE 10D, DSO 22, AXLE 5, TRANS 5
Options: Radio, heater delete
Comments: I purchased this car from the original owners family. Because it was a North Carolina vehicle all its life until I brought it north to Ma. about 20 years ago , the body and trim are very nice. Over the years it has had some mechanical work but it has never been restored. It still has the original tri power and 4 speed. I took it out for a ride last Sunday 3/19/06,it will still turns heads and it really is a thrill to kick in the trips and run it thru the gears. Thanks for a great site. Submitted by Joe Conlon, 03/31/2006.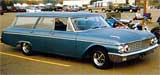 137. VIN 2W71W134294, BODY 71D, COLOR E, TRIM 62, DATE 15E, DSO 33, AXLE 1, TRANS 4
Options: 292 V-8, Dual Range Cruise-o-matic, Deluxe heater
Comments: I bought a 62 Ranch wagon from a friend in Lincoln Park, MI for $3500, in the spring of 1998. The underbody was a little crusty, but she had no surface rust, the original paint still had some shine to it, and she sported 14" argent painted Magnum 500 wheels with stainless trim rings, chrome valve stem covers, and "Red Crown" valve stem caps. The seats had dark blue velour covers on them. The car looked very KOOL, and garnered many looks. I took her to car cruises, including the Woodward Cruise in ''98 and ''99, car shows, including a big show at the World Headquarters in Dearborn. I never received any big trophies with her, but that's alright, it was all in good fun, and I had a lot of that with her. A friend of mine came up with an original 62 AM radio with the old style tubes that I installed, along with drilling out the right hand quarterpanel for the aerial. I was told to hang on to the radio delete block out plate, which I still have, and would be willing to part with for anyone building a 406 drag car, for the right price. In 2000 things started to take its toll, as a rear tire threw its tread, snagging the wheelwell at 70 MPH. I managed to straighten out the wheelwell, but left a good sized hole behind it. A little while later, a friend's '63 Falcon convertible put itself into reverse, backed itself down the driveway, and struck my Ranch Wagon in the left hand rear door. I finally sold her shortly after getting married in 2002 for a measly $1000. The wife "convinced" i.e. nagged me into selling her before she completely melted into the earth. She still ran, on a combination of gasoline,oil, and antifreeze, and 2 wheel cylinders were leaking, but the new owner drove her away grinning. That's the last time I had seen her. If anyone had seen her since, or are looking for a radio delete plate,feel free to e-mail me at mparker@severstalna.com. Submitted by Mark Parker, 04/07/2006.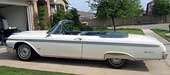 138. VIN 2D65Z154297, BODY 76A, COLOR M, TRIM 32, DATE 15F, DSO 65, AXLE 1, TRANS 4
Options: Power top, power windows, power seat, power brakes, power steering, Selectair, deluxe wheel covers, push button radio, front mount antenna, electric windshield wipers/washers, backup lights, center hood ornament, circular rear view outside mirrors, fender skirts.
Comments: Car was recently brought out of 20+ years storage in heated garage, all power accessories except cigarette light work. Very original car. Submitted by Luke Keck, 04/07/2006.
Email: coolhandluke0203@yahoo.com
No photo available. 139. VIN 2E65W234464, BODY 76A, COLOR J, TRIM 35, DATE 11F, DSO 25, AXLE 1, TRANS 3
Comments: This car is owned by Allan Sanders of Auckland New Zealand. Submitted on 04/04/2006 by Greg Moore of Auckland, New Zealand who owns a 29 Model A, a 61 Starliner and a 63 T Bird.
No photo available. 140. VIN 2D51W110018, BODY 62B, COLOR M, TRIM 22, DATE 13K, DSO blank, AXLE 8, TRANS 2
Options: 3 speed overdrive trans, polar-aire a/c
Comments: Daily driven, very good condition, ready for paint. Submitted by Justin Van Horn, 04/09/2006.
Email: jdubvanhorn@yahoo.com